National
'Medicine can also kill,' pharmacists warn after ivermectin distribution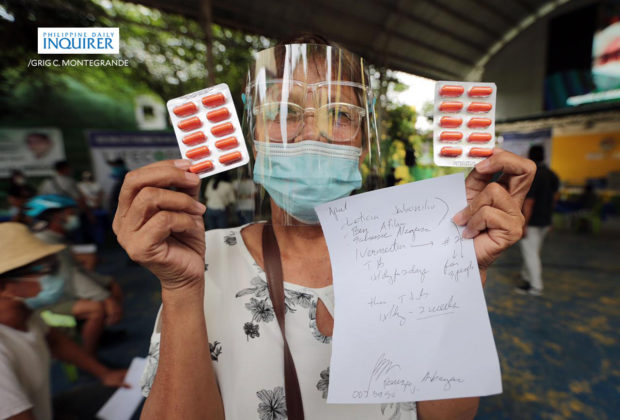 MANILA, Philippines — Following the ivermectin distribution event in Quezon City, a group of Filipino pharmacists on Friday reminded the public that while medicine can heal, "it can also kill."
The Philippine Pharmacists Association, Inc. (PPhA) made the remark after House Deputy Speaker Rodante Marcoleta and Anakalusugan Partylist Rep. Mike Defensor gave away ivermectin drugs in a barangay in Quezon City as treatment against COVID-19 even as the drug has yet to be registered for human use in the country.
"In the light of the recent mass distribution of Ivermectin, the Philippine Pharmacists Association, Inc. (PPhA) strongly opposes the irrational dispensing of an unregistered drug and illegal compounding thereof," the group said in a statement.
"Medicines are developed, manufactured, prescribed, compounded, and dispensed based on sound, scientific and evidence-based professional judgment," it added.
The group said medicines prescribed by a physician after careful evaluation of a patient should be based on scientific evidence, emphasizing that "not all medicines are for general use of the public."
"These prescription medicines shall only be compounded and/or dispensed by a pharmacist in FDA (Food and Drug Administration) registered pharmaceutical establishment," the group further said.
"Close monitoring of the patient must be strictly ensured and documented by the prescribing physician and the dispensing pharmacist," it added.
Valid prescription needed
The group likewise said that a valid prescription prior to compounding or dispensing of medicine is needed.
The pharmacists' group said that a valid prescription must contain the date of issuance, patient's information, physician's information, drug name, drug strength, dosage form, quantity prescribed, and direction for use.
"An invalid prescription must not be served. A waiver signed by a patient cannot exonerate the prescriber or the pharmacist from the accountability in case of adverse drug reaction," the group said.
To recall, the prescriptions used in the ivermectin distribution were met with criticism, some by doctors and pharmacists, after these were merely written on a blank piece of paper and lacking doctors' information.
Defensor has defended the ivermectin distribution, saying the concern on the doctors' prescription is "immaterial," and that critics seemed to be only when they questioned the use of plain papers to write on prescription for the drug.
But pharmacists said that while it is not against the use of ivermectin per se, its dispersal should be compliant with the law while ensuring the safety of the patients.
"Clinical trials are ongoing for the safe and effective use of ivermectin in the management of COVID-19, therefore we appeal to the public to wait for the results of these trials," the group said.
EDV