Life has not always been easy for Empoy Marquez.
Until he was tapped as the unlikely leading man of Alessandra de Rossi in the 2017 surprise hit Kita Kita, the boy from Baliuag, Bulacan, shuttled from one supporting role to another, usually as the sidekick of the bida, always one of the groom's men and never the groom.
"It was unexpected," Empoy recalled. "As in hindi ko akalain."
Directed by Ingrid Andrea Bernardo, Kita Kita is about a tour guide (played by Alessandra) whose world, as described in the synopsis, "in one horrible moment clouds over, taking an unlikely stranger to help her see its beauty again." The entire film was shot in wintry Sapporo, Japan, and its theme song, Two Less Lonely People, added to the poignancy of the story. Well, we know how the story ends, don't we? (Trivia: Empoy is now doing a movie with direk Sigrid, 30 percent of it filmed in Baguio. Kita Kita/I See You set a trend prompting every producer in movietown to ride on its popularity by pairing off a pretty actress with a "non-looker" actor and it inspired an Indonesian version titled Cintu Itu Buta/Love is Blind starring comedian Dodit Mulyanto. Kita Kita was produced by Spring Films, owned by Piolo Pascual and direk Joyce Bernal, with Viva Films signing in as co-producer after Star Cinema begged off.)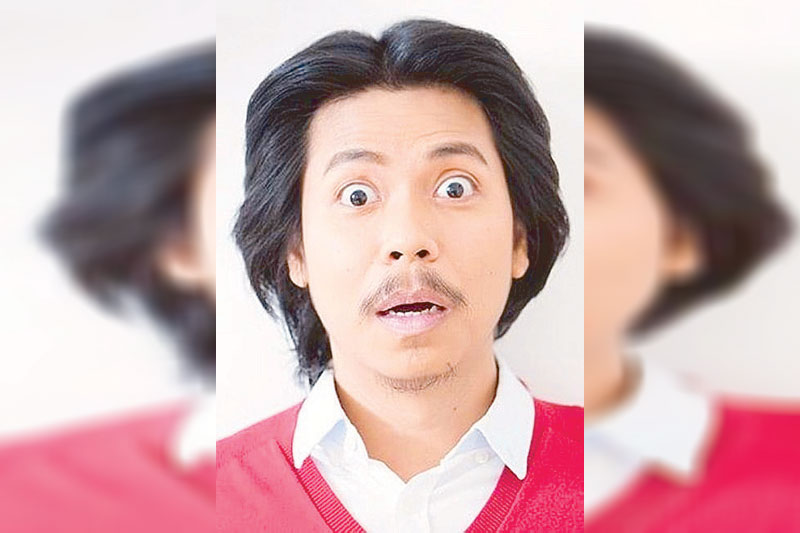 Empoy is starring in a TV5 series (which premieres tomorrow night at 7:15) titled Niña Niño (also produced by Spring Films) and TV-watchers must be wondering if it's something like Kita Kita, with Maja Salvador as Empoy's leading lady.
"Different," said Empoy who was talking with Conversations on the phone from the lock-in set in Quezon Province. "Iba po."
Directed by Thop Nazareno, the series is about Niña (Maja) and her brother Niño (Noel Camia Jr.) who are accused of something they didn't commit and they flee to Santa Ines, a faraway town in the province, where Niña crosses paths with Empoy's character.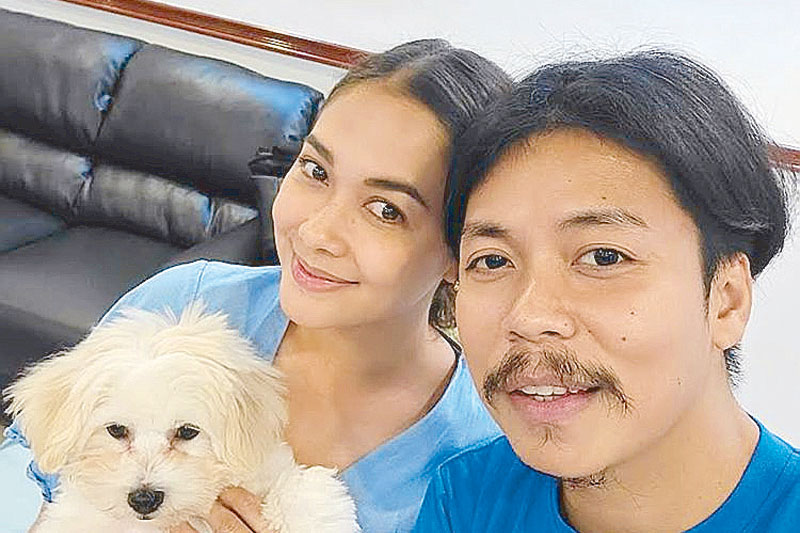 He couldn't be any luckier. He's paired with the industry's pretty actresses such as Maja Salvador in the TV5 Kapatid Network's Niña Niño which premieres tomorrow night at 7:15.
"Kita Kita was a romantic film and Niña Niño is a family drama with a touch of comedy," added Empoy. "I provide the comic touch (with, among others, Moi Bien)."
The series is good for one season (from April to June) and Empoy and company have been shuttling between Manila and Quezon Province (he has time allotted to his Baguio shoot with direk Ingrid), shooting for three weeks straight, resting for one week, shooting again for three weeks, resting again for one week...Quite a tough schedule but Empoy isn't complaining and, contrary to the lead photo on this page, can't be sitting pretty all the time.
"I've been working since 2003 after I won the Mr. Suave contest on ABS-CBN," shared Empoy who is under contract with Cornerstone while Maja is managed by Crown Artists Management/CAM (which provides full-service talent and artists management, manages digital platforms for personalities, negotiates bookings for endorsement, events and various projects). "It was made into a movie starring Vhong Navarro. I was in the cast playing a supporting role. That was my first-ever movie."
Before that, Empoy was earning his keep from odd jobs, starting at a fast-food joint before moving to a convenience store and then to grocery store (on graveyard shift) where he met a friendly lady ghost behind a soft-drink counter.
"I also worked as a light man. Sumasama ako sa mga friends who were video-shooting in events like debuts, baptisms, birthdays and weddings."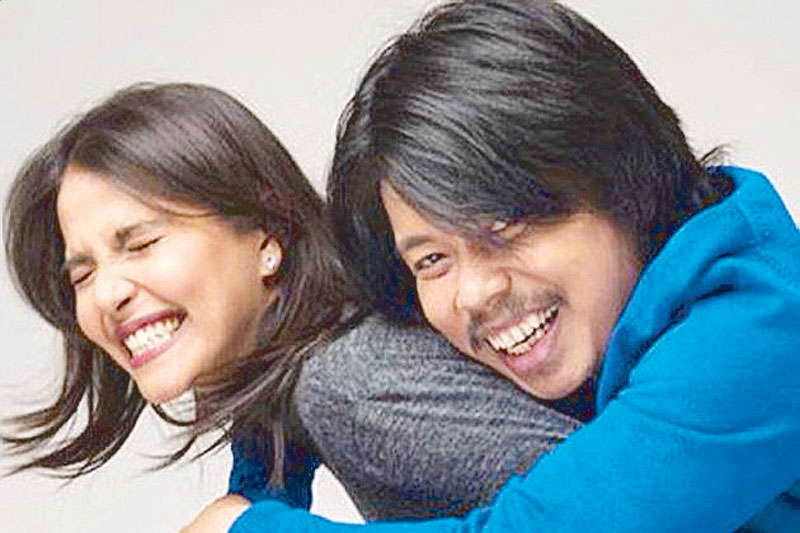 Alessandra de Rossi in Kita Kita, the 2017 surprise superhit that validated Empoy as a bankable leading man.
No choice, he said. He's the eldest among seven children and he served as the main breadwinner.
Did he ever imagine himself an actor?
It was in school (Baliuag North Central School for elementary and Fernandez College of Arts and Technology where he reached second year of the Masscom course) where he discovered his knack for comedy.
"My classmate and I were the comedians in the class. Masaya lang. Tawa naman nang tawa ang mga schoolmates namin kaya ganado kami."
He quit school when she started working. And then he joined the Mr. Suave contest.
"I didn't mind playing supporting roles. Ini-enjoy ko lang ang work. Hindi ko nga feel na artista na ako, eh. I would do any kind of work na binibigay sa akin ng managers. Sayang ang kita."
Now that he's a star, Empoy has learned to put value on his career (pinahahalagahan ang trabaho), thankful that producers continue to trust him and give him work.
"After Kita Kita, maraming nabago sa buhay ko. So many changes in my life."
Ignored (or overlooked) before, he has become a fodder for the gossip mill. Like, how come he doesn't have, well, "a lovelife?"
"Mayroon bang interesado?" he laughed. "Yes, I have had three girlfriends. One in high school, one in college and a third one who is married and is now working in Singapore. One lasted for months, one for more than one year."
He has done his obligation to his siblings, sent them to school and helped them raise their own families.
"It's time naman to attend to myself."
What kind of partner is he looking for?
"Actually," he said, "during this pandemic it's hard to look for one. Mahirap maghanap ng syota," he laughed again. "Lockdown tayo, eh! Antay-antay na lang kapag may dumating."
The Miss Right he is dreaming of is somebody "na katulad ko." Meaning, she should be "masarap kasama, masarap kausap, masarap magluto at nakakatawa. 'Yung mai-intindihan ako sa lahat ng ginagawa ko. Maalaga."
Is he hard to understand?
"Hindi naman. Madali akong kausap."
Then he laughed and laughed.
(E-mail reactions at [email protected]. For more updates, photos and videos, visit www.philstar.com/funfare or follow me on Instagram @therealrickylo.)