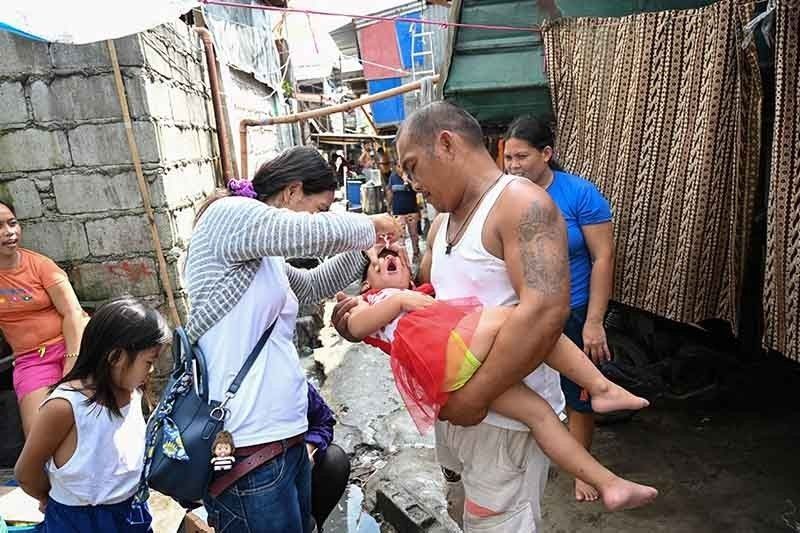 MANILA, Philippines (Updated 1:25 p.m.) — The polio outbreak detected in the Philippines is now over, the World Health Organization and the United Nations Children's Fund said Friday, nearly two years after the illness re-emerged.
In a statement, the WHO and the UNICEF Philippines said the Department of Health officially concluded the polio outbreak response on June 3 "as the virus has not been detected in a child or in the environment in the past 16 months."
"[This] is a result of comprehensive outbreak response actions including intensified immunization and surveillance activities in affected areas of the country," the two UN agencies said.
Dr. Rabindra Abeyasinghe, WHO representative to the Philippines, called the development a "major win for public health and is an excellent example of what collective efforts can attain, even in the midst of the COVID-19 pandemic."
The country had 17 confirmed cases of polio during the time of the outbreak from 2019 to 2020. No deaths were recorded.
The DOH announced a polio outbreak in the country on Sept. 19, 2019 after 19 years of being polio-free. Before that, the country was declared polio-free in 2000, with the last case of wild poliovirus reported in 1993.
The resurgence of the illness came after the Philippines was hit by measles and dengue outbreaks early in 2019, stoked by falling vaccination rates.
Polio, a disease that mainly affects young children who have not completed their vaccination schedules, can cause paralysis, or even death.
The virus is transmitted mainly through the fecal-oral route. If an individual touches human waste contaminated with the virus, and then eats food without washing their hands properly, the virus could enter the body through the mouth.
To protect the gains of the polio outbreak response, WHO said there must be high priority given to quality poliovirus surveillance, protection of human resources involved in immunization and development of best practices manual for field level users.
Vaccines work
Polio has no cure and can only be prevented with several doses of oral or injectable vaccines.
"This triumph we have achieved only goes to show that vaccines are safe and effective. It is for this reason that we continue to encourage the public to receive vaccines, not just the polio vaccine but other vaccines as well including the COVID-19 vaccine," Health Undersecretary Myrna Cabotaje said.
The government faces a difficult task of conducting a COVID-19 vaccination campaign as it re-establishes trust in immunization two years after the highly-politicized Dengvaxia controversy. A survey of the Social Weather Stations released in May found only 32% of adult Filipinos are inclined to get inoculated against COVID-19.
So far, only 1.55% of the country's roughly 110 million population have been fully vaccinated against COVID-19, while 4.26% have received the first of two doses of the vaccine.