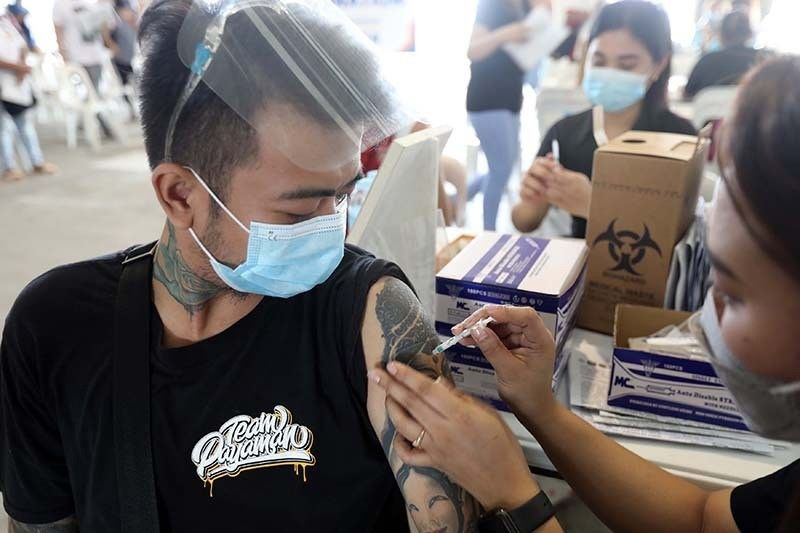 MANILA, Philippines — Fewer people were vaccinated against COVID-19 due to bad weather in the past days, according to the Department of Health.
DOH Undersecretary Maria Rosario Vergeire said the department posted a decline in the average daily vaccination rate, as some local government units (LGUs) were forced to suspend the immunization program.
"The doses given (last Sunday) were 136,000. It went down because our average was more than 200,000 a day," Vergeire said, as she estimated the vaccination rate at a virtual briefing yesterday.
Data submitted by the DOH for the last seven days recorded an average daily vaccination rate of 300,880.
While there were LGUs that suspended vaccination, there were some that continued the inoculation despite heavy rains and flooding.
Vergeire said the DOH has issued guidelines encouraging LGUs to hold immunization in safer areas during typhoons.
"The inclement weather is not a reason for us to stop. There's a bit of delay, but vaccinations will push through," Vergeire pointed out.
Aside from the inclement weather, Vergeire said, there were fewer vaccinees during the weekend because it's a rest day for most health care workers (HCWs).
The health official stressed the need for people to get vaccinated as protection against COVID-19 and its variants.
The Philippine National Police (PNP) will scout for sites which could serve as temporary vaccination centers during bad weather.
PNP chief Gen. Guillermo Eleazar yesterday ordered police commanders to coordinate with local chief executives and the Office of Civil Defense to determine the assistance they need in looking for safer vaccination sites.
He put emphasis on LGUs in flood-prone and landslide-prone areas, which Eleazar said need alternative inoculation centers.
"We are in the midst of the rainy season and other natural calamities, and we are expecting more incidents of flooding and landslides in the coming months. That is why we should prepare for this as our call to order from President Duterte," Eleazar said in a statement in Filipino.
Eleazar said they are also ready to convert some of their police camps into vaccination sites.
Over six million people nationwide are now fully vaccinated against COVID-19, the DOH reported yesterday.
More than two million of fully vaccinated individuals are those with comorbidities, followed by senior citizens at more than 1.6 million.
More than 1.3 million HCWs are fully vaccinated, as well as 812,141 essential workers and almost 230,000 indigents.
DOH said a total of 17,202,421 doses of COVID-19 vaccines have been administered nationwide as of July 25.
Of the number, DOH said 11,113,107 were first doses, while 6,089,314 were second doses.
Additional doses arrive
A total of 375,570 doses of American-made Pfizer vaccines arrived last night at Mactan-Cebu International Airport (MCIA), Davao International Airport (DIA) and at the Ninoy Aquino International Airport (NAIA) on board an Air Hong Kong DHL flight from the COVAX Facility.
Out of the 375,570 doses, 51,480 doses were delivered to Cebu, another 51,480 doses were delivered to Davao, while the remaining 272,610 doses on the last leg of the flight arrived at NAIA Terminal 3 last night at around 9:30 p.m. and were immediately transported to the PharmaServ Express cold storage facility in Marikina City.
The first shipment of Pfizer vaccines composed of 562,770 doses procured by the government arrived last Wednesday night at NAIA Terminal 3 and transported to PharmaServ by refrigerated vans prior to distribution.
The Philippine government reportedly secured the supply agreement with the US drugmaker last month, with a total of 40 million Pfizer doses to the Philippines, for special handling and storage in temperature controlled refrigerated containers prior to distribution.
Meanwhile, the Philippines proposed the establishment of a common and globally recognized digital vaccination certificate containing secured data that can be verified.
National Economic and Development Authority (NEDA) Undersecretary for policy and planning Rosemarie Edillon proposed five critical areas for urgent global action that can help countries recover from COVID-19 at the UN high-level meeting, held recently to commemorate the 75th anniversary of UN's Economic and Social Council.
These actions include ensuring vaccine equity, developing a common digital vaccination certificate, collaborating for developing online learning platforms and resources, institutionalizing knowledge exchange and ensuring access to food and essential goods to truly achieve a sustainable and resilient recovery for all. – Rudy Santos, Louella Desiderio, Emmanuel Tupas, Pia Lee-Brago