Business
SGP's benefit under NGCP's new div policy uncertain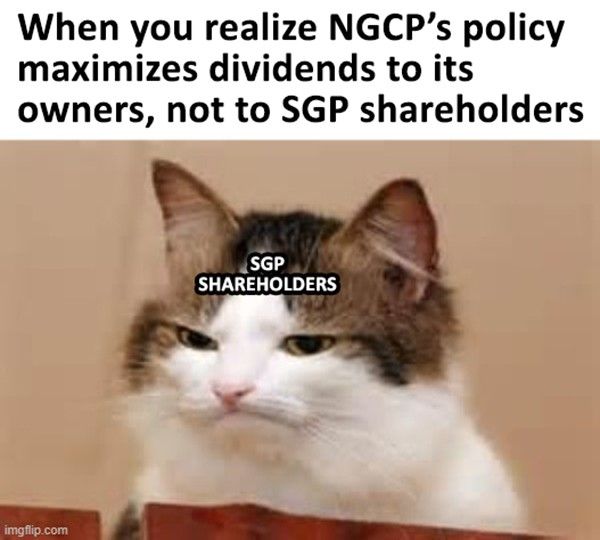 Synergy Grid & Development Phils [SGP 395.80] owns a 60% indirect interest in the National Grid Corporation of the Philippines (NGCP), the massively profitable monopoly on the country's electricity transmission grid. NGCP's new dividend policy looks to maintain a "sound" level of capitalization, while at the same time, "[create] value for its shareholders".
To that end, NGCP said that it would seek to maximize the dividends paid to shareholders out of its unrestricted retained earnings, subject to a few limitations: where dividends might impair NGCP's ability to satisfy the requirements of its concession; where loan covenants might prohibit such dividends; where compliance with the law and regulations of the SEC might prohibit such dividends; and where capex requirements, market conditions, or other cash flow and funding requirements might justify it.

MB BOTTOM-LINE
The important thing to remember here is that this policy applies to dividends declared to NGCP's shareholders and that SGP itself is not a shareholder (yet) of SGP.
It's entirely possible under this policy for NGCP to distribute maximized dividends to its shareholders, Monte Oro Grid Resources Corporation (30%), Calaca High Power Corporation (30%), and the State Grid Corporation of China (40%). SGP's 60% control of NGCP comes courtesy of its ownership of OneTaipan (which owns Monte Oro) and Pacifica21 (which owns Calaca High Power), so while this policy helps give investors an understanding of how the money will leave NGCP, it doesn't provide any better clarification on what SGP shareholders might expect to absent a similar policy and disclosure from the primary shareholders, Monte Oro and Calaca High Power, and then from the holdco shareholders, OneTaipan and Pacifica21.
If SGP owned NGCP shares directly, this would not be as much of a concern, but since SGP's NGCP holdings are currently obscured by two corporate layers, and the open/unanswered legal question of whether or not this arrangement satisfies NGCP's mandate to IPO, it should still concern SGP investors very much.
--
Merkado Barkada is a free daily newsletter on the PSE, investing and business in the Philippines. You can subscribe to the newsletter or follow on Twitter to receive the full daily updates.
Merkado Barkada's opinions are provided for informational purposes only, and should not be considered a recommendation to buy or sell any particular stock. These daily articles are not updated with new information, so each investor must do his or her own due diligence before trading, as the facts and figures in each particular article may have changed.