World
PH bowlers capture silver, bronze medals in Asian Youth tilt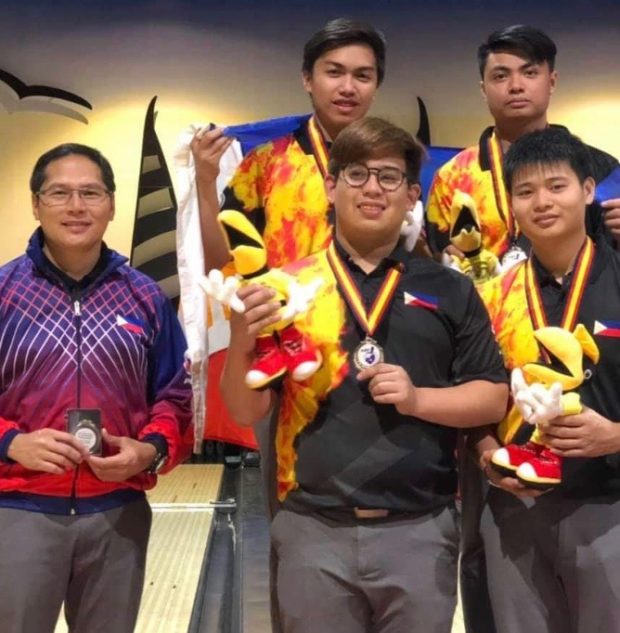 Aside from the skills required to succeed, bowler Merwin Tan showed that mental toughness is an integral part of success.
The 19-year-old added two more medals to his collection after winning the boys' singles during the 20th Asian Youth Tenpin Bowling Championships in Sarawak, Malaysia.
Tan, a national team mainstay, grabbed a silver medal after joining forces with Kenzo Umali, Kyle Abad and Patrick Nuqui in the boys' team of four.
They accumulated a combined output of 4,996 in six games behind Singapore's quartet of Brandon Ong, Eugene Yeo, Xavier Teo and Jomond Chia, who rolled a total of 5,123 pinfalls.
"This is the first time that we have brought a mental coach to a tournament and he has helped our bowlers overcome pressure,'' said Alex Lim, chair of the PBF's youth committee.
The PBF, which has Hall of Famers Bong Coo and Paeng Nepomuceno onboard, hired mental skills coach Marcus Manolo to complement technical coaches Biboy Rivera and Jojo Canare.
Tan seized a bronze later on in the boys' all events, putting together 3,860 in a thrilling showdown on the lanes against eventual gold performer Ong of Singapore (4,103) and silver medalist Muhammad Hafiz (3,933) of Malaysia.
Congratulations, Merwin Tan! Bronze Medalist, Boy';s All Events, 20th Asian Youth Championships, Kuching, Sarawak, Malaysia.

Posted by Philippine Bowling Federation, Inc. on Tuesday, April 23, 2019
"The field was pretty tough with seasoned and multi-awarded bowlers coming from powerhouse countries,'' said Lim, also the PBF treasurer.
"To see our bowlers particularly the boys holding their ground and fending off the challenges by rolling their own barrage of spares and strikes was an awesome sight to see,'' he added.
It capped a successful week for the Philippine Bowling Federation which has been investing heavily on its youth programs to bring back the country's glory days in the sport.
"In our current program, we have included days where they do strength and conditioning and sessions with a mental coach to toughen our bowlers, especially during crunch time,'' said Lim.
"But all these will not succeed without the trust and faith of the players themselves on the coaches. In the end, it is the bowlers who must possess the discipline and the drive to excel,'' added Lim.