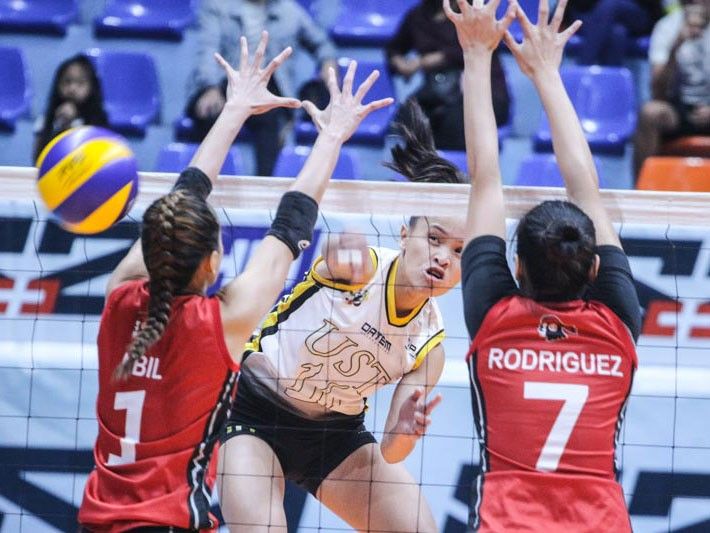 UST blasts UE for share of 2nd spot
SAN JUAN, Philippines — The UST Golden Tigresses continued their winning ways after dumping the hapless UE Lady Warriors in straight sets, 25-17, 25-14, 25-20, in the 81st UAAP women's volleyball tournament at the FilOil Flying V Centre on Sunday.
The España-based squad ends the first round with a 5-2 slate, good enough for the second spot. Defending champions DLSU also sport a similar record.
Since losing Milena Alessandrini to injury in their game against FEU, UST has been rolling.
The Tigresses head into the second half of the season on a three-game winning streak, including a straight-set upset win over the Lady Spikers.
The Tigresses were dominant for most of the game, with the UE Lady Warriors barely putting up a stand.
It was all UST to start the match, with an early 9-2 lead over the Lady Warriors.
But the Lady Warriors had a run of their own, taking advantage of errors from the UST side while generating offense with Judith Abil leading the way.
UE inched closer to the Tigresses, 10-13.
The comeback falls short, however, as UST once again gained the upper hand. Despite a better fight from the Lady Warriors, the deficit proved too much.
UST struck first, 25-18.
Come the second set, UE looked out of it. The Tigresses exploited the Lady Warriors' defense.
Sisi Rondina, Eya Laure and Dimdim Pacres all connived to deal UE a beating and take the 2-0 lead, 25-14.
Determined to close out dominantly, the Tigresses continued their dominance in the third set.
UST held a comfortable lead, 19-13.
Despite efforts from the Lady Warriors to cut into the lead and get back into the game, it was too late as UST held on for the sweep, 25-20.
Rondina and Laure combined for 32 points to lead UST to victory, while Abil was the lone bright spot for UE with 15 points.
UE drops to a 1-6 record at the end of the first round.