Sport
Trainers beg Pacquiao: Slow down, take a rest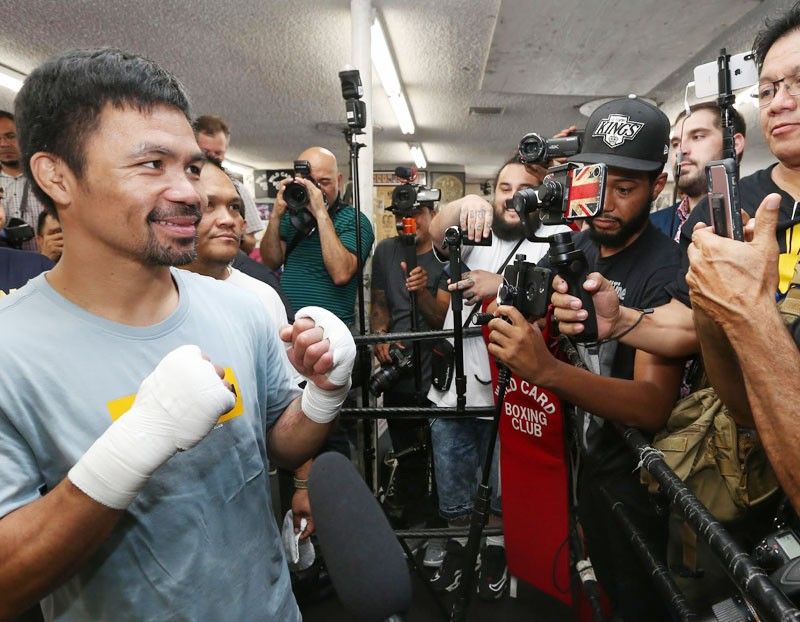 HOLLYWOOD – They're putting up a "Stop" sign inside the Wild Card Gym here in Los Angeles as Manny Pacquiao enters the final days of his training for the coming welterweight showdown with Keith Thurman.
"Hinihinto na namin (We're pulling the reins)," said trainer Nonoy Neri just outside the Los Angeles International Airport Wednesday evening.
"Baka sumobra na (He might over train)," added one of the very few Filipino trainers who've been around Pacquiao the past two decades.
Neri said he'd seen Pacquiao reach his peak in training as early as last week, and the last thing he would want is for the 40-year-old superstar to suffer from burnout.
"Nandun na siya (He's there). Kapag makita mo ang katawan niya (If you see his build)," he added.
Buboy Fernandez, the head trainer, sees a stoppage, and hinted of an early one at the MGM Grand in Vegas.
"Uuwi tayo ng maaga (We're going home early). Thurman will feel the earthquake in Las Vegas. Here in LA it's 7.1 magnitude, in Vegas it will be 10.1," he said, adding that it could be as early as inside "three rounds."
At the same time, Fernandez warned Pacquiao of Thurman's looping right, which he describes as "halibas" or haymaker.
Pacquiao vowed to put on a show on July 20 at the MGM Grand, against an unbeaten boxer that's 10 years younger.
"You will see what a 40-year-old can do," said Pacquiao.
Pacquiao held a media day Wednesday afternoon at the Freddie Roach-owned sweatshop. They've reduced the numbers of rounds in training from a high of 12 rounds of sparring last week.
He tapers down until Saturday, takes a rest on Sunday, then heads to Las Vegas on Monday where he'd go through the motions leading up to his second fight this year.
Last January, he outclassed Adrien Broner, also 10 years younger at least, and almost the same time last year he knocked out Lucas Matthysse in seven rounds in Kuala Lumpur.