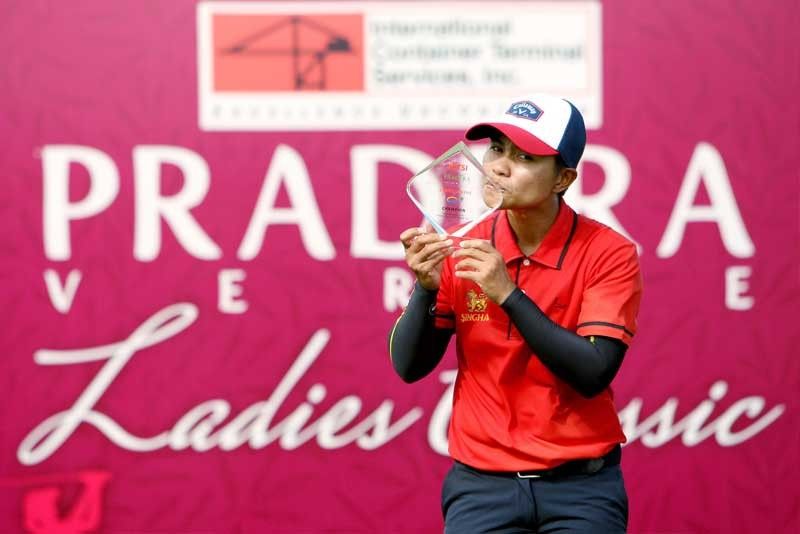 Thai ace sustains form, wins Pradera Classic by two
LUBAO, Pampanga, Philippines — Yupaporn Kawinpakorn kept her good run of form on the Ladies Philippine Golf Tour, closing out the year the way she kicked off her 2018 campaign – winning.
The Thai veteran battled back from an early two-stroke deficit with two clutch birdies at the back – the first stopping Dottie Ardina's assault and the other finishing off compatriot Pimpadsorn Sangkagaro for a two-stroke victory on a closing 69 in the ICTSI Pradera Ladies Classic here yesterday.
She came out of a fierce three-way battle after 11 holes with a birdie on the par-5 12th and stayed in command to the finish as Ardina, who moved to joint lead at six-under overall with back-to-back birdies from No. 11 in a flight ahead, fell behind by two again with a bogey on the 14th and never got back into the title chase.
In contrast, Kawinpakorn turned back Sangkagaro's challenge with a 15-foot birdie on the 17th to complete a second straight three-under card, clinching the victory with an eight-under 208 total worth P250,000 in this second leg of the 2019 Ladies Philippine Golf Tour.
"I expected to win and I'm very happy I made it," said Kawinpakorn, who bucked a game-long struggle with her long game with superb iron game and putting in windy conditions.
Sangkagaro blew an early two-stroke lead over Kawinpakorn and failed to recover from a bogey-bogey start at the back. She wound up second with a 71- 210 and took home P120,000.