Sport
Shades of Gray: Manny Pacquiao at 40 moves on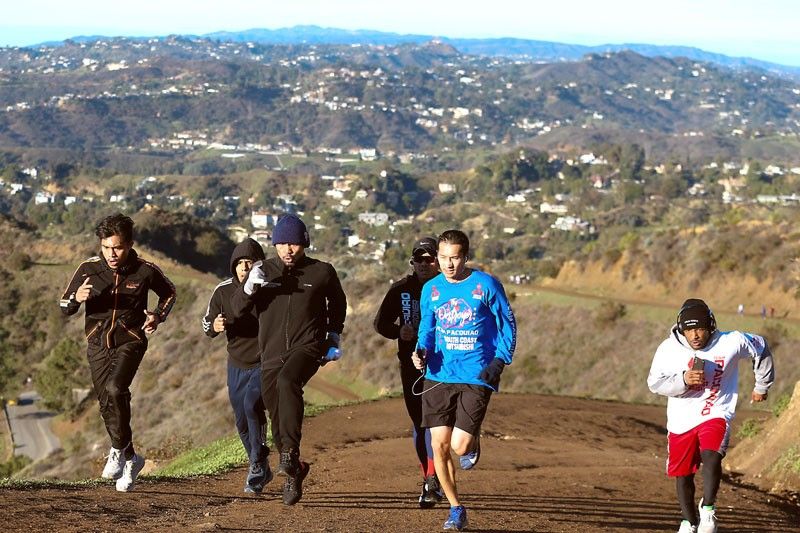 HOLLYWOOD – With a few strands of gray hair showing, 40-year-old Manny Pacquiao faced questions about his future inside the ring Wednesday.
"You've had a long journey in this sport. How far do you want to go from here?" he was asked by a foreign reporter at the Wild Card Gym.
Pacquiao, at his age, remains quite an attraction in the sport he once dominated. He remains a world champion at 147 pounds.
On Jan. 19, the Philippine senator defends his WBA crown against a younger Adrien Broner of Cincinnati at the MGM.
It's a fight Pacquiao can't afford to lose because another defeat may truly mean the beginning of the end for the eight-division world champion.
Pacquiao, who won 15 consecutive fights, huge fights, from late 2005 until late 2011, has lost two of his last five, and four of his last 10.
Losses to Juan Manuel Marquez, Timothy Bradley, Floyd Mayweather Jr. and Jeff Horn have led people to think twice about his future as a boxer.
But Pacquiao rebounded with a big knockout win over Argentina's Lucas Matthysse last July in Kuala Lumpur, his only fight in 2018.
It was his first KO victory in nearly nine years, and then again, Pacquiao and his fans knew that he was far from finished.
"Thinking about the journey, I still want to continue," said Pacquiao as he sat by the edge of the ring, facing more than a dozen cameras.
"But I already accomplished what I want to accomplish. I just want to maintain my name on top," he added.
"Even if I'm 40 I want to give the best of Manny Pacquiao – the speed, power, everything. I can still give that," he assured everyone.
Broner was supposed to show up at the same Hollywood sweatshop. But he opted to train and face the media elsewhere, in nearby Van Nuys.
"He's scared of us I think," said Roach.
"Who cares?" added strength coach Justin Fortune of Broner's decision to snub the Wild Card invite. "As long as he shows up for the fight. That's all we want."
Pacquiao has trained hard for the Broner fight, perhaps harder than most boxers twice younger than he is could.
"I'm so thankful to God for all these ability and strength and good health that he has given me," he continued.
If he gets past Broner, Pacquiao can look at other big fights against Terence Crawford, Keith Thurman, Shawn Porter or Errol Spence.
Or the rematch with Mayweather.
Pacquiao thinks he can still deliver inside the ring as much as he does on the legislative floor.
"Not all fighters at 40 can move and train like I do. This is a blessing from God," he said before moving upstairs for yet another round of interviews.
Then he worked the mitts with Roach.