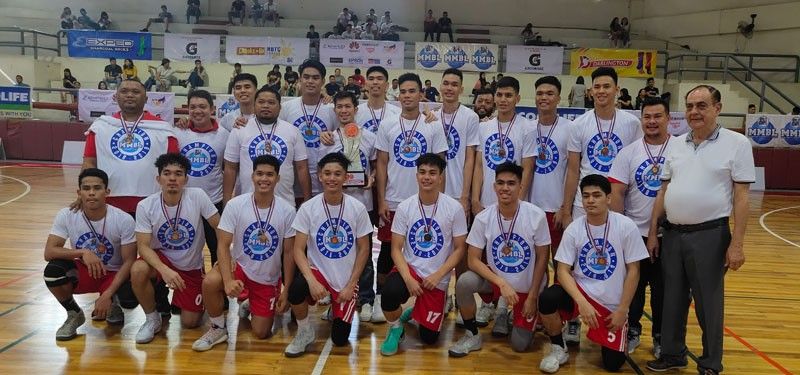 Red Cubs win MMBL, qualify for NBTC tiff
MANILA, Philippines – The San Beda Red Cubs weathered a 3-point barrage from the Letran Squires and put on their own display of fireworks in the fourth period to win the Metro Manila Basketball League Division One championship, 87-82, to qualify for the 2019 SM-NBTC National High School Championships in March.
The Squires were on fire from downtown for much of the first three quarters and led 63-59, after a John Tabayen triple at the 2:46 mark of the third period.
The Red Cubs Penny Estacio and Kai Oliva led a fight back that saw them notch the count at 63-all. San Beda forward Josh Lazaro scored on a putback that gave his team a lead they would not surrender.
Lazaro added three more points in between a Rhayyan Amsali bucket to give the Red Cubs a 70-65 lead going into the final 10 minutes of play. Once in the payoff period, San Beda hit three huge triples — one each from Estacio, Win Coyoca and Amsali — for an 85-77 lead time down to 3:31.
Letran, scorching hot in the first three quarter from 3-point range with 11 triples, only hit one the rest of the way, and that was right before the final buzzer with the outcome in San Beda's favor.
Estacio led San Beda with 19 points while his backcourt mate, Oliva knocked down 15 points. Rhayyan Amsali finished with 14 while Lazaro added 11.
Charles Saure topscored for the game with 24 points for Letran while Shaun Umali and Neil Guarino each poured in 11 points.
The MMBL title sent San Beda into the national championship game, wherein first year Red Cubs Team A head coach Manu Iñigo is hoping for a better result. Last season, Iñigo's Red Cubs who were coming off a BBI title lost to La Salle Greenhills, 69-64, in the NBTC quarterfinals.
"This MMBL championship is a good win for the boys and hopefully, this will give us the confidence going into the NBTC," said Iñigo after the game. "Last year, napaaga yung uwi namin. Hopefully, this time, matagal-tagal kami sa tournament."
In the recent NCAA Season 94 Juniors tournament, the Red Cubs were defeated by eventual titlist, Mapua, in the semifinals.