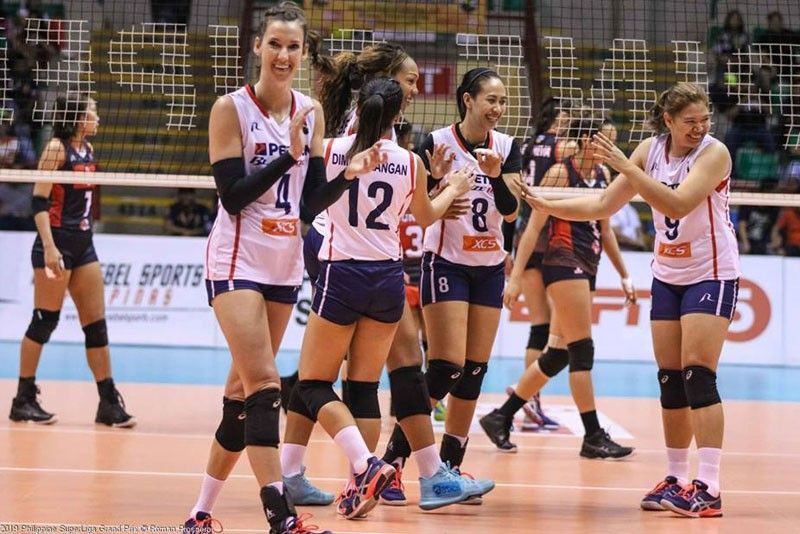 Petron zooms on; UVC trips Cignal HD
MANILA, Philippines — Reigning champ Petron came prepared for PLDT's ambush, playing like a well-oiled machine to prevail in straight sets, 25-18, 25-21, 25-14, and pick up its 10th straight win in the Philippine Superliga Grand Prix yesterday at Filoil Flying V Center.
The Blaze Spikers turned in another solid outing from the service line, landing nine aces a couple of days after setting a league record 16, and asserting themselves in attacks – 13 more than PLDT's 29 total – and net defense (six blocks against one) to fend off their upset-conscious opponents.
"I'm happy and proud to see them giving their best," said Petron coach Shaq delos Santos, who drew 21 points from Steph Niemer and 19 from Kath Bell in the game where PLDT tested it particularly in the second set.
"It was good that we experienced a close fight (in the second) so we could realize we shouldn't be complacent and stay focused on every point, every execution from service to passing," added Delos Santos of the frame which they only closed out via hits from Niemer and Bell and a block from Mika Reyes.
The Blaze Spikers put a stop to the three-game streak of the Power Hitters (6-5), who were gunning for the hide of another heavyweight after their four-set reversal over fancied F2 Logistics last Saturday.
Kendra Dahlke was the lone player from PLDT to score in double digits, making 15 hits and one ace, as her partner Grace Lazard struggled with eight.
Earlier, United Volleball Club overcame a shaky start to score a 14-25, 25-21, 25-21, 26-24 victory over skidding Cignal HD and vault into the Top 4 with 5-4. The HD Spikers suffered their third consecutive loss and fell to 5-6.
Kalei Mau punched in a triple double performance of 19 points, 14 digs and 14 receptions as Yasmeen Bedart Ghani also had 19 and Shar Manu-Olevao added 10 and Alohi Robins-Hardy tossed 31 excellent sets with 16 digs for the victors.
After an error-plagued opener, where it trailed 9-19, UVC charged back strong and seized leads of 20-14 and 18-10 in the second and third to get the upperhand. Cignal threatened to extend it to a decider with 23-21 lead in the fourth but UVC mounted a big fightback, with Olevao and Ghani combining for four in a 5-1 windup that iced it.
"I'm proud of how the girls stayed composed; after the first set, they talked among themselves and declared they were throwing away that first set and starting anew. I'm glad they responded that way," said UVC mentor Josh Ylaya, whose charges spoiled the 29-point explosion of Cignal's Erica Wilson.
"We're even happier how they handled the situation in the fourth," added Ylaya, who gave extra credit to Amy Ahomiro for lifting UVC's plays during the crucial stretch with her steady serving.