Sport
Petron, F2 Logistics headed for title rematch?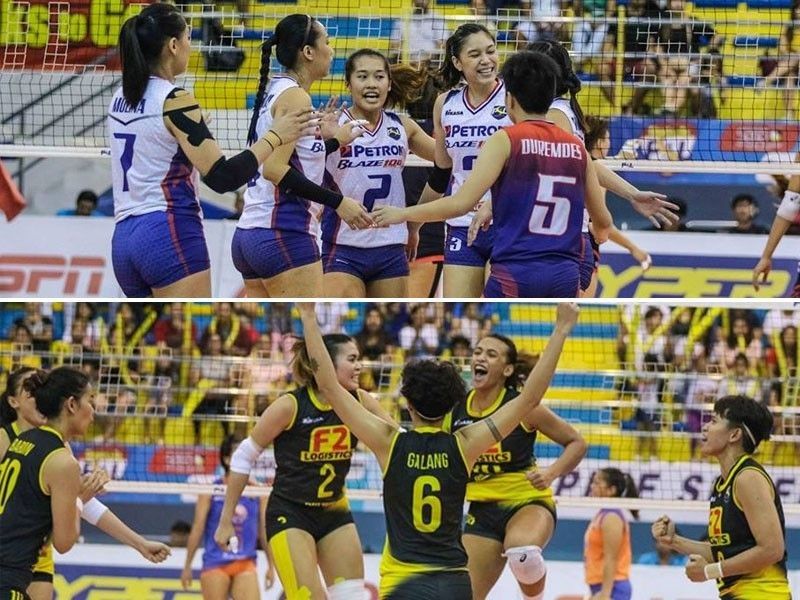 MANILA, Philippines – After surviving their respective quarterfinal foes, bitter rivals Petron and F2 Logistics are on track to win another Philippine Superliga Grand Prix title.
But unlike in the past, the road to the semifinals was completely different for the Blaze Spikers and the Cargo Movers.
While Petron was a picture of consistency and dominance right from the start, the Cargo Movers had some scary moments before formally booking a best-of-three semifinal series against PLDT Home Fibr starting April 23.
The Blaze Spikers were in championship mode since the start of the season.
They sliced through the classification phase like a hot knife to butter, winning all but one set to complete a 14-game sweep, the longest winning run in the history of the most prestigious women's club league in the country.
In the quarterfinals, Petron clobbered a hapless Sta. Lucia side in three sets to gain a long vacation before facing Cignal in a best-of-three semis affair also on April 23.
Despite their success, head coach Shaq Delos Santos still refuses to be complacent.
"It's still a long way to go," said Delos Santos, who is doing a masterful job keeping the confidence of his key players like Kat Bell, Stephanie Niemer, Mika Reyes, Denden Lazaro and Rhea Dimaculangan in check.
"The semifinals would be anybody's ballgame. All teams are coming in well rested from Lenten break so there's really no clear-cut favorite. We just have to work hard and prepare because the semis would surely be intense."
Unlike Petron, F2 Logistics flirted with disaster before advancing to the next round.
They played great volleyball in the classification, but lost twice to Petron and another one to PLDT, sparking speculations that Power Hitters' veteran coach Roger Gorayeb holds the key that would unlock the vaunted gameplan of Ramil de Jesus.
Then, disaster struck in the quarterfinals.
In a bid to topple F2 Logistics, Foton unleashed V.Premier League standout Jaja Santiago to help Courtney Felinski, Milagros Collar, Dindin Manabat and Maika Ortiz carry the load.
The Tornadoes prevailed in their first quarterfinal meeting as backup setter Alex Cabanos ran out of gas in a bid to fill the huge void left by injured Kim Fajardo.
But the Cargo Movers refused to give up.
With seasoned imports Lindsay Stalzer and MJ Perez at the helm, the Cargo Movers banked on former La Salle aces Aby Marano, Majoy Baron, Dawn Macandili and Ara Galang to restore order and pull off a four-set conquest.
"That was a do-or-die game so we gave everything we can," said de Jesus, who is regarded as the best in the business when it comes to bouncing back from bad losses.
"But our job is not yet done. We still have to prepare for the semifinals because PLDT will surely be prepared. They beat us before, so we have to be ready for them."
The survivors in the semifinals will collide in a best-of-three finals series starting April 30 at Filoil Flying V Centre in San Juan.