Sport
PBA teams brace for Macau 'T 12' import invasion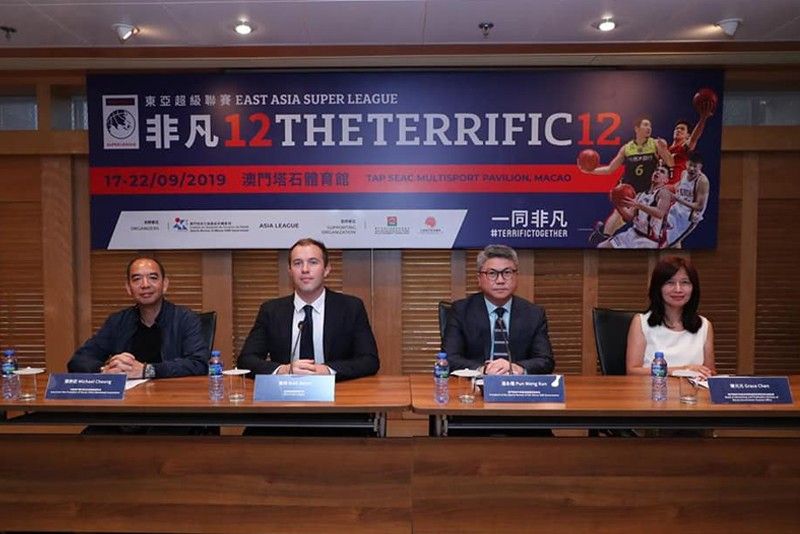 MANILA, Philippines — It won't be easy sailing for three PBA teams vying for the $150,000 first prize at the Terrific 12 tournament in Macau on Sept. 17-22 as they face top-caliber imports from China, South Korea and Japan brought in to turn the region's richest six-day competition into a fierce battleground.
The three PBA entries are San Miguel Beer, TNT and Blackwater. Japan will be represented by Niigata Albirex, Utsunomiya Brex, Ryukyu Golden Kings and Chiba Jets. China's teams are the Liaoning Flying Leopards, Zhejiang Guangsha Lions and Shenzhen Aviators while the Korean clubs are the Seoul SK Knights and Jeonju KCC Egis.
Seven NBA veterans are listed in rosters. They are Blackwater's 6-10 Alex Stepheson of the University of Southern California, TNT's 6-5 K. J. McDaniels of Clemson, Liaoning's 6-6 Lance Stephenson of Cincinnati, Liaoning's 6-8 Brandon Bass of Louisiana State, Ryukyu's 6-9 Jack Cooley of Notre Dame, Shenzhen's 6-6 Shabazz Muhammad of UCLA and Seoul's 6-8 Jameel Warney of Stony Brook University.
Bass, 34, has the most extensive NBA experience among the imports, earning $38.8 million in playing 758 games for New Orleans, Dallas, Orlando, Boston, Los Angeles Lakers and Los Angeles Clippers over 12 seasons. His import partner Stephenson, 29, saw action in 508 contests for Indiana, Charlotte, the Clippers, Memphis, New Orleans, Minnesota and the Lakers in nine seasons. Stephenson bankrolled $35 million during his NBA stay. This past season, he pocketed $4.4 million playing with LeBron James and the Lakers.
Muhammad, 26, earned $10.5 million playing for Minnesota and Milwaukee in five NBA seasons. He's the only first round draft pick among the imports. Muhammad was chosen in the first round by Utah in 2013. McDaniels, 26, played for Philadelphia, Houston and Brooklyn in 148 games, including 16 starts, over three seasons, earning $7.3 million. Stepheson, 32, suited up in eight games for the Clippers and Memphis in 2015-16. Cooley, 28, played in 23 outings for Utah and Sacramento while Warney, 25, checked in for three games with Dallas in 2017-18.
Each team is allowed to enlist up to three imports but only two may play in a game. "We've told teams they may rotate imports on a game by game basis," said East Asia Super League CEO Matt Beyer, the Terrific 12's chief architect. "But each individual game roster may only have two imports. The situation is the teams may bring three imports but only use two in any given game."
Chiba's imports are 6-8 Josh Duncan of Xavier, 6-9 Gavin Edwards of Connecticut and 6-9 Nick Mayo of Eastern Kentucky. Additionally, the Jets lined up 6-8 Japanese-American Michael Parker of Evergeen State. Ryukyu is the only other team with three imports in the roster – 6-8 DeMon Brooks of Davidson, 6-10 Josh Scott of Colorado and Cooley.
Aside from Stepheson, Blackwater has signed up two-time NLEX import Aaron Fuller who'll play for the Elite in the Governors Cup. Stepheson staked Blackwater to a 5-1 record in the recent Commissioner's Cup, averaging 22.2 points and 22 rebounds then went down with a stomach virus. He's back with the Elite for unfinished business. TNT's imports are McDaniels and 6-5 McKenzie Moore of the University of Texas at El Paso. San Miguel will bring in former Columbian import 6-10 Lester Prosper of Old Westbury and 6-5 Dez Wells of Maryland.
Two imports tipped to amaze the crowd are 6-2 Jeff (Mr. Incredible) Gibbs of Utsonomiya Brex and 5-11 Pierre Jackson of Shenzhen. Gibbs, 39, moved to Japan from Germany in 2010 and is a Hall of Famer at his alma mater Otterbein University in Ohio. Jackson, 28, is a human dynamo who led the Chinese league in scoring last season, averaging 39.8 points with the Beijing Dragons. He shot 42.4 percent from distance and 90.7 percent from the line aside from dishing out 9.3 assists a game. Jackson was Philadelphia's second round pick in 2013 but the Baylor guard never played in the NBA.
Other imports are 6-8 Leon Williams of Egis, 6-8 Nick Perkins and 6-10 Lamont Hamilton of Niigata, 6-7 Aaron Haynes of Seoul, 6-3 Aaron Jackson and 6-10 Jalen Reynolds of Zhejiang and 6-9 Ryan Rossiter of Utsonomiya Brex.
San Miguel team manager Gee Abanilla said Wells is arriving here in the first week of September. "He'll play in Macau as part of our preparation for the third conference," said Abanilla. "We borrowed Prosper from Columbian. We go back to practice on Sept. 2."