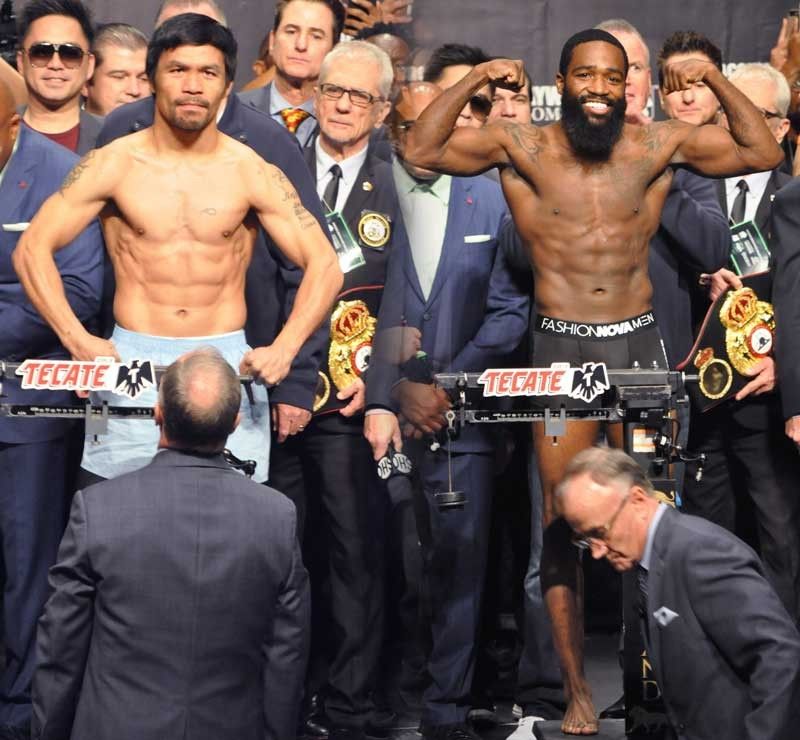 Pacquiao, Broner again stress motivations for winning
Pinoy, American confident of victory
LAS VEGAS – One is already a legend still working to become an ever bigger one. The other is an underachiever fighting for respect and reevaluation.
Manny Pacquiao and Adrien Broner faced off for the last time Friday here (Saturday Manila time), a day before trading punches in a fight that would have major consequences for them – win, lose or draw.
The two fighters hurdled the last obstacle to their 12-round title showdown, making the welterweight limit of 147 pounds, then re-emphasized their motivations in notching a victory 24 hours later.
Broner, the 29-year-old challenger known for his swagger and loud mouth, effectively crushed speculations about weight difficulties when he tipped the scales at 146.5 pounds – half a pound below the limit.
He had claimed the best training camp ever, and the weigh-in result is just part of the evidence.
"First of all, I feel good," said the Cincinnati-born fighter, who is known to have talent but always comes up short when facing quality opposition.
Broner (33-3-1, with 24 KOs) is a four-division champion – having won titles at super featherweight, lightweight, junior welterweight and welterweight. His career, however, has been tainted by losses to high-caliber fighters.
He is looking for that career-defining win that would inevitably lead to bigger paydays to support his flashy, carefree persona.
"It's a hell of an opportunity. After I win tomorrow, I'll be a legend overnight," he told the packed crowd at the MGM Grand Garden Arena where the free-to-the public weigh-in ceremony took place.
More importantly, Broner believes a victory over Pacquiao – a first-ballot Hall of Famer once he becomes eligible – will lead to his critics viewing him in a much better light.
Meanwhile, Pacquiao, as usual, had little trouble with weight. He was a pound lighter than the limit at 146 pounds.
The Filipino icon is buoyed by the opportunity to prove he can still put on a good show at 40 years old – at the site of his biggest fights.
"It doesn't matter if I am 40 years old, I still feel young," he said after tipping the scales.
The two fighters engaged each other in a longer-than-usual staredown that lasted for at least 20 seconds. It was Pacquiao who first broke eye contact, while Broner continued looking at his foe.
Pacquiao had been ignoring Broner's trash talks throughout the promotion. When their staredown finally ended, he tapped his opponent's right butt, a clear sign that he understands Broner's antics are only for show.
For the eight-division champion, pouring more cement to an already immovable legacy is something he won't get tired of doing.
"It's my legacy to always give a good fight," he said.