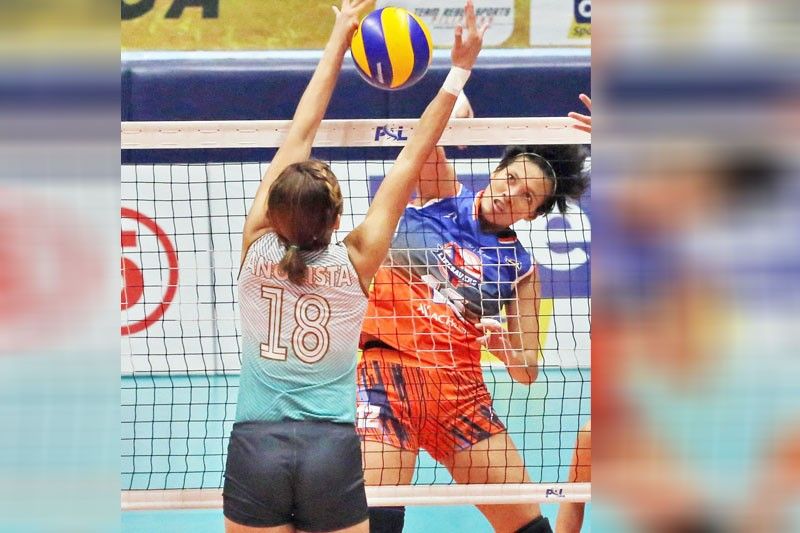 Never-say-die Generika halts UVC; Cignal triumphs
MANILA, Philippines — Showing its no-quit character in the face of an injury to its key player and a monster performance from United Volleyball Club's Kalei Mau, Generika-Ayala rallied in a 25-23, 21-25, 19-25, 27-25, 15-12 thriller to pick up back-to-back wins in the Philippine Superliga Grand Prix yesterday at Filoil Flying V Center.
Thai outside hitter Kanjana Kuthaisong punched in 19 points, capping her game-long heroics with the clinching off-the-block kill, as the Lifesavers bucked the ankle injury suffered by Ria Meneses in the fourth and foiled the 33-point explosion of Mau to emerge with their third victory in 10 games.
The Lifesavers, who also drew production from Fiola Ceballos (16), Meneses (13), Mika Lopez (10) and Angeli Araneta (eight) and splendid floor defense from Bia General (33 digs, 20 receptions), kept their hopes for a Top 4 spot in the quarterfinals alive.
UVC, which played without Tai Manu-Olevao who attended to family matters, fell to an even 5-5.
Apparently using the painful exit of Meneses, who hurt her left ankle after a block attempt, as rallying point, the Lifesavers overcame a 19-23 deficit and saved match point twice in the fourth before stealing it on a Mau attack error and a well-placed hit from Kuthaisong.
Araneta knocked down five points in the decider, pushing Generilka to a 9-5 cushion, then the Lifesavers pounced on successive mishits by Mau and Yasmeen Bedart Ghani to get on the hill at 14-12 and finally iced it with Kuthaisong's spike.
In the second game, Erica Wilson dropped 33 points and libero Jheck Dionela came through with 34 excellent digs as Cignal snapped a three-game slide at the expense of Foton, 15-25, 25-20, 25-18, 25-20.
The HD Spikers improved to 6-6 while sending the Tornadoes down to 1-9.
"It's a huge confidence booster for us. I think we'll play much better from hereon," said Wilson.