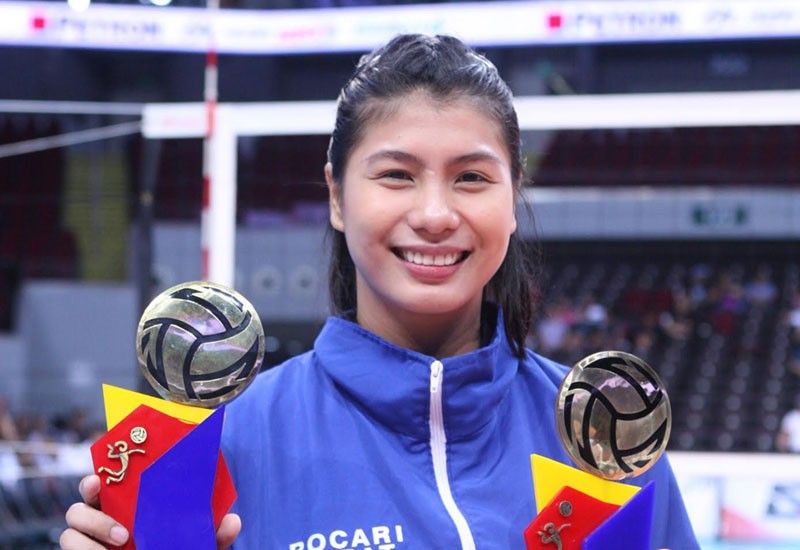 Myla Pablo nears deal with Motolite
MANILA, Philippines – Myla Pablo's transfer to Motolite is almost a done deal.
Patrick Aquino on Monday said Pablo is "80 percent" sure of transferring to Motolite after the franchise assumed the remaining three years in her original five-year contract signed with Federal Distributors, Inc., the mother company of Pocari Sweat.
Although she has yet to formally sign a contract, Motolite and FDI already reached an agreement over the weekend that effectively shut the door for other serious bidders like Cocolife, Foton, BanKo Perlas, PetroGazz and other prominent clubs.
Aquino said moving to Motolite wasn't their decision.
"It was the managements of FDI and Motolite who talked and decided on who will take Myla's contract," said Aquino, who stressed last week that Myla will join a team that has a direction and championship roadmap since this could be the "final stretch" of her colorful volleyball career.
"Well, it is what it is. Aside from some minor details, I think it's almost a done deal. I think it's about 80 percent complete."
Pablo's move to Motolite is like a twisted knife into the hearts of the Asset Managers.
Cocolife, in fact, is already laying down the groundwork for what could the most explosive team ever with Pablo and Filipino-American Kalei Mau at the wings.
The Asset Managers are also seriously looking at tapping a veteran setter and a pair of defense-minded middle blockers to make sure that Pablo, Mau and prized libero Denden Lazaro will give powerhouse teams Petron and F2 Logistics a serious run for their money.
But in a shocking development nobody saw coming, Motolite suddenly snatched the biggest, most high-profile free agent in the market today.
Sources said Motolite is also serious to built a championship-caliber team following the success of its team in the ongoing Open Conference of the Premier Volleyball League.
They said the team will be built around Pablo and could add a couple or more players from the Philippine Superliga.
Still, everything is a work in progress.
"Let's see what will happen," said Aquino, who is also the coach of the National University women's basketball team that is on track for another sweep in the University Athletic Association of the Philippines.
"All I can say is that Myla will play and give her best for whichever club she would end up playing. But so far, with the way things are going, it seems that she's heading for Motolite."