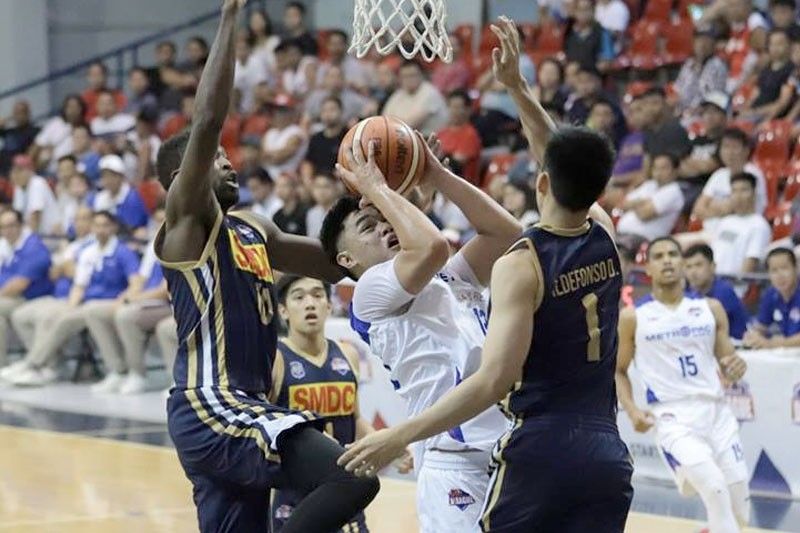 Lions roar on; Knights bounce back
MANILA, Philippines — Metropac-San Beda stepped up on defense in the last seven minutes to edge SMDC-National U, 94-86, for solo second in its bracket in the PBA D-League yesterday.
The Movers trailed 40-43 at the turn and were still lagging behind, 72-80, at the 7:24 mark of the fourth but countered with a 20-2 assault to go in front, 92-82, with under two minutes left in the match.
Donald Tankoua, Calvin Oftana, Clint Doliguez, James Kwekuteye and Evan Nelle conspired in Metropac-San Beda's ruthless run to close in on unbeaten Foundation Group leader Centro Escolar University (5-0) with their fifth win in six outings.
Tankoua put in 23 points and 14 rebounds, Oftana registered 18 points and eight boards, Doliguez scored 16 while Kwekuteye and Pedro Alfaro each added 11 for the Movers.
Dave Ildefonso was at the forefront of the Bulldogs' charge, tallying 30 points, 21 in the middle quarters, but only coughed up three in the fourth as NU crumbled to stay winless in five games.
Issa Gaye hauled down 26 boards to go with his nine points for the Bulldogs.
Earlier, Jerrick Balanza and Alvin Pasaol willed Petron-Letran in the last five minutes and the Knights outlasted erstwhile unbeaten Aspirants' Group leader Ironcon-University of Santo Tomas, 114-101, to get back on track.
Balanza and Pasaol fired 13 points in Petron-Letran's searing 17-2 run in a near four-minute span to turn a 98-91 deficit at the 5:23 mark to a 108-100 lead with over a minute remaining in the match.
Balanza then fired five more points from there to preserve the advantage and the victory for the Knights who bounced back from an 83-64 setback to Cignal-Ateneo.