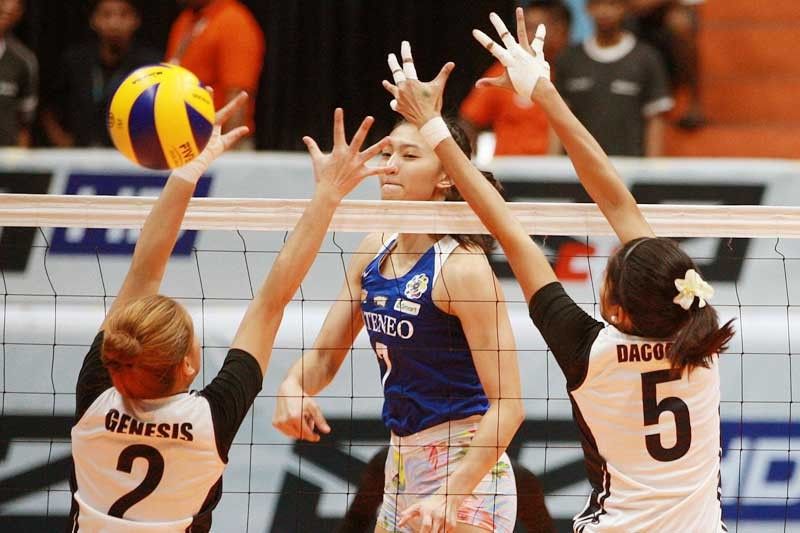 Lady Eagles out to solidify solo lead vs Bulldogs
Games today (Filoil Flying V Center, San Juan)
8 a.m. – ADMU vs NU (men's)
10 a.m. – FEU vs DLSU
2 p.m. – ADMU vs NU (women's)
4 p.m. – FEU vs DLSU
MANILA, Philippines — Ateneo braces for a tough fight from National U's rookie-laden crew as it aims for a tighter grip of the top spot even as last year's finalists La Salle and Far Eastern U figure in a rematch in the tailend of the first round of elims in the UAAP season 81 women's volleyball today at the Filoil Flying V Center in San Juan.
The Lady Eagles have not dropped a match since their opening game setback against archrival Lady Spikers and they aim to keep the win streak going to six games when they collide with the Lady Bulldogs at 2 p.m.
In the other match, DLSU, which has just recovered from a two-game slide, hopes to be in-form against streaking FEU at 4 p.m.
Both tote 4-2 records for a three-way tie at second spot with University of Santo Tomas.
ADMU vowed to be as fierce as ever when it takes on NU, which utilized its young guns' championship experience at endgame to shock University of the Philippines in an extended fifth set battle and improved to 2-4 at sixth.
"In the UAAP, you cannot say one is dominant and one is in the lower half of the standings. All players are cream of the crop, all teams are practicing and preparing. We don't see that we are on top, or second or third or fourth. We always pray hard and we really work hard for it no matter the standings," said Lady Eagles coach Oliver Almadro.
The Lady Bulldogs promise to do the same, with the young crew looking to stay undaunted in facing their more-experienced foe.
"You cannot discount the players even if they are rookies. They are champion players in high school in the UAAP. Even if they are rookies, they are able to help the team through their experience and character," said NU coach Norman Miguel.
Meanwhile, the Lady Spikers go up against the Lady Tamaraws who are coming off a three-game win streak.
"That was not yet our A-game (against University of the East the last time out) but we're getting there. It's a process and the season is still a long way to go," said DLSU's Tin Tiamzon.