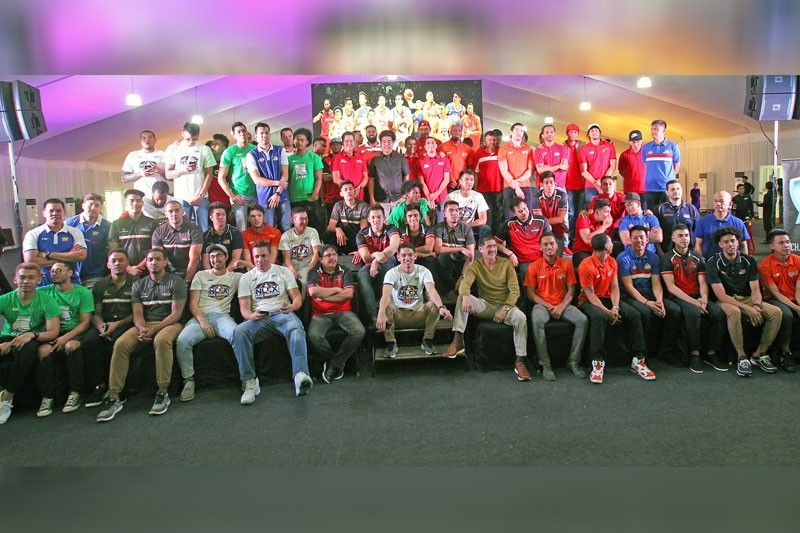 Kings, Hotshots chief contenders
COACHES' VIEW: SMB has ceiling, speed, shooting – everything
MANILA, Philippines — They say that if there's a team that is well capable of matching up with reigning PBA Philippine Cup four-peat champ, it's no other than crowd darling and Commissioner's Cup titlist Barangay Ginebra.
Ginebra coach Tim Cone accepts that.
"No doubt about that," said Cone during the well-attended PBA Media Day at the Solaire Tent at the sprawling Solaire Complex in Pasay City yesterday.
"We can match up with them better than any other team. We have similar size, similar quickness in the backcourt. And some other things they can do against other teams, they can't do against us," said Cone.
And a healthy lineup gives Cone the confidence to compete with the Beermen whom they beat for the crown in the Commissioner's Cup last season.
"That's the key, to be healthy. Generally, we're healthy. Greg (Slaughter) is healthy, Japeth (Aguilar) is healthy and LA (Tenorio) who's always healthy, is healthy. As long as those guys are healthy, we have enough to be good," said Cone.
The Ginebra coach feels they've grown up and matured but his concern is that San Miguel has become tougher.
"We're intact and we're comfortable with each other. We know what to do and achieve, but they've got stronger with the addition of Christian Standhardinger and Terrence Romeo. They're gonna be tough," said Cone of the team that is to chase a record all-Filipino five-peat in the PBA season that fires off Sunday at the Philippine Arena in Bocaue, Bulacan.
PBA coaches all point to the Magnolia Hotshots as another team that can well give San Miguel a tough challenge.
"Right off the bat, what comes to my mind are Ginebra and Magnolia," said Meralco coach Norman Black.
"They both have the size and the guards to be able to match up with San Miguel, and that's important. You've got to match up with June Mar (Fajardo) and Standhardinger, and you've got to deal with (Chris) Ross, (Marcio) Lassiter and the other guards that they have," Black pointed out.
The Meralco bench chieftain feels Ginebra and Magnolia have well-rounded lineups to compete with San Miguel.
Black, however, doesn't discount the chances of the other teams.
"The ball is round and it's a new season. We'll see what happens," said Black, believing his own team has improved in the offseason.
"We're healthy for the first time in four years and so it's interesting to start the season and how to play the entire season," said Black, starting the campaign with Ranidel de Ocampo, Jared Dillinger and Cliff Hodge at his disposal along with Chris Newsome, Baser Amer, Reynel Hugnatan, Anjo Caram, Garvo Lanete and Nico Salva.
A regular contender with a badly crippled lineup at the start of the season is Alaska Milk.
"We can't even do five-on-five (in practice)," rued Alaska coach Alex Compton.