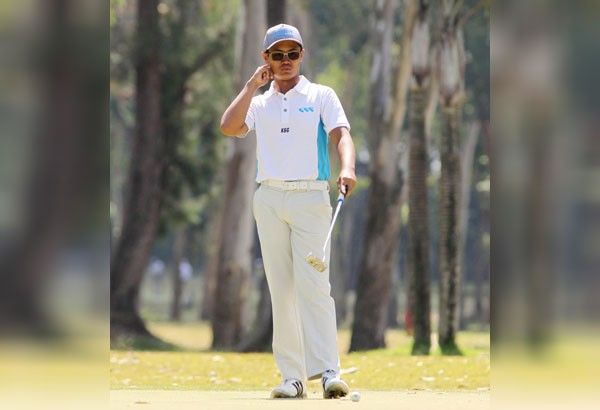 Jolo virtual ch Gabasa takes charge
CANLUBANG – Jolo Magcalayo checked an early skid with a cluster of birdies to all but nail the men's championship while Junia Gabasa surged ahead by two despite a 75 after three rounds of the W Express RVF Cup Amateur Golf Championship at Cangolf's North course here Thursday.
As erstwhile chief rival and elder brother Jonas stumbled with bogeys on the first three holes and bowed out of contention with a 79, Jolo rebounded from a shaky start with five birdies to negate a four-bogey mishap, including on the last hole that hardly put a dent to his title drive in the 72-hole championship sponsored by the MVP Sports Foundation and held in honor of the late NGAP president and golf patron Rod V. Feliciano.
Seven-up on Jonas after 36 holes, Jolo bogeyed Nos. 2 and 3 but birdied the sixth and eighth holes, dropped another stroke on No.12 but birdied Nos. 14, 16 and 17 before yielding another shot on the closing par-4 hole.
With a nine-under 207 aggregate, the 17-year-old Jolo went unassailably ahead to all but record his biggest win in a young career with Otake grabbing solo second at 216 after a 69 as Jonas groped for a 40-39 and tumbled to eighth at 222.
Sean Ramos shot a 73 for third at 217 while Carl Corpus pooled a 218 after matching par 72 and Paolo Wong rallied with a 33 for a 71 to tie Perry Bucay, who turned in a 73, and Paqo Barro, who made a 76, at fifth at 221.
Rupert Zaragosa, who will join the pro ranks next month, failed to make a charge and settled for a 74 for joint ninth at 223 with Kristoffer Arevalo, who had a 76, and Elee Bisera, who made a 77.
After being crowded by Eagle Ace Superal and Sofia Chabon in the first two rounds, Gabasa finally shook off her challengers, bucking a woeful backside 40 for a 75 and a 222 as Chabon reeled back with a 38-41 for a 79 and fell to fourth at 226.
Young Rianne Malixi and Sofia Legaspi took over at joint second with 224s with the former stringing a 36-37 for a 73 and the latter bouncing back from an opening 39 with a 35 for a 74.
Bernice Olivarez-Ilas remained too far behind at 228 after a 75 while Rafaela Singson, who fumbled with a 78, tied Superal, who skied to an 81, at 229, now seven strokes behind heading to the last 18 holes of the event organized and conducted by the National Golf Association of the Philippines and held as part of the PLDT Group National Amateur Tour and backed Cignal, Metro Pacific and Cangolf.
Dylan Castillo shot a 76 to post a one-stroke edge over Kim Tae Won in boys' play while Sophia Abarcas made a 79 for a three-shot lead over Mikhaela Constantino in girls' side of the Special Division as part of the NGAP's grassroots program that drew bets from Apo Golf and Del Monte.