Sport
Jolo cruises to record romp; Gabasa triumphs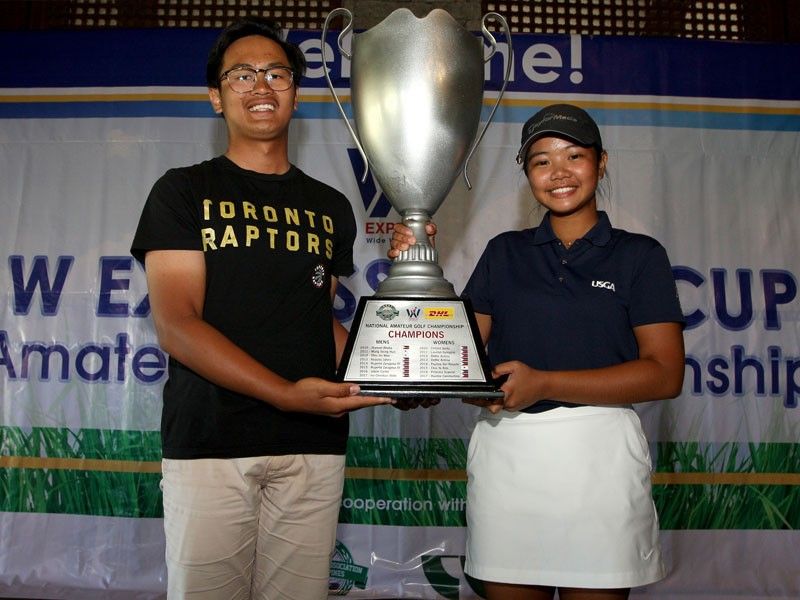 CANLUBANG – Jolo Magcalayo groped for form in windy conditions but still coasted to a record 11-stroke victory with a third straight 71 while Junia Gabasa survived a late meltdown and Rianne Malixi's charge to clinch the women's title in the W Express RVF Cup Amateur Golf Championship at Cangolf's North course here Friday.
Magcalayo, who all but wrapped up the men's crown with a big nine-shot lead after 54 holes, gunned down two birdies against a bogey and went for regulation pars when his game began to sputter in tough conditions to complete his dominant run boosted by a solid opening 65.
"I struggled with my shots that's why I'm quite disappointed since I wasn't able to do my game plan," said Magcalayo, a Grade 10 student at De La Salle-Zobel, whose 10-under 278 total and 11-shot romp over Kristoffer Arevalo and Paqo Barro nearly tripled the four-shot win by Korean Kim Joo Hyung over Aniceto Mandanas last year. "Perhaps, it's because of the wind and I didn't putt quite well unlike in the first round."
Arevalo shot the day's best six-under 66, spiked by an eagle on No. 14 for a closing 31 for joint runner-up at 289 with Barro, who birdied three of the last five holes to finish with a 68.
Gabasa, on the other hand, nearly squandered a five-shot lead with eight holes to go, needing to match Malixi's par on the final hole to save a 74 and a one-shot win at 296 in women's play of the 24th staging of the event sponsored by the MVP Sports Foundation and held in honor of the late NGAP president and golf patron Rod V. Feliciano.
Malixi fell by five with a bogey on No. 10 but birdied Nos. 14 and 16 and pulled within one as Gabasa bogeyed Nos. 16 and 17. But the former failed to shake off the Cebuana bet in their final hole duel, settling for par and second at 297 after a 73.
First round co-leader Sofia Chabon failed to rebound from a disastrous third round 79, ending up with a 76 for joint third with Sofia Legaspi, who limped with a 78, at 302 while Eagle Ace Superal, who also shared the lead after 18 holes, carded a 75 to tie Bernice Ilas, who hobbled with a 76, at 304 in the event held as part of the PLDT Group National Amateur Tour and backed Cignal, Metro Pacific and Cangolf.
Meanwhile, Korean Kim Tae Won put in a second 77 and took the boys' crown at 154, six shots ahead of Dylan Castillo, who had a 160 after an 84, while Sophia Abarcas ran away with the girls' diadem with a 157 after a 78, 15 shots over Jeong Yeah Eun, who groped for an 86 and a 172 in the Special Division, held as part of the National Golf Association of the Philippines' grassroots program which features young players from Apo Golf and Del Monte.
Back in men's play, Rupert Zaragosa finally hit his stride, albeit late, firing a 69 to finish tied at fourth with Paolo Wong, who shot a 71, at 292 while Elee Bisera, Perry Bucay and Carl Corpus shared sixth place at 293 after a 70, 72 and 75, respectively.
Sean Ramos wound up ninth at 294 after a 77 while Masaichi Otake, who started the final round at second after a 69, skied to an opening 42 and finished with a 79 to drop to 10th at 295.