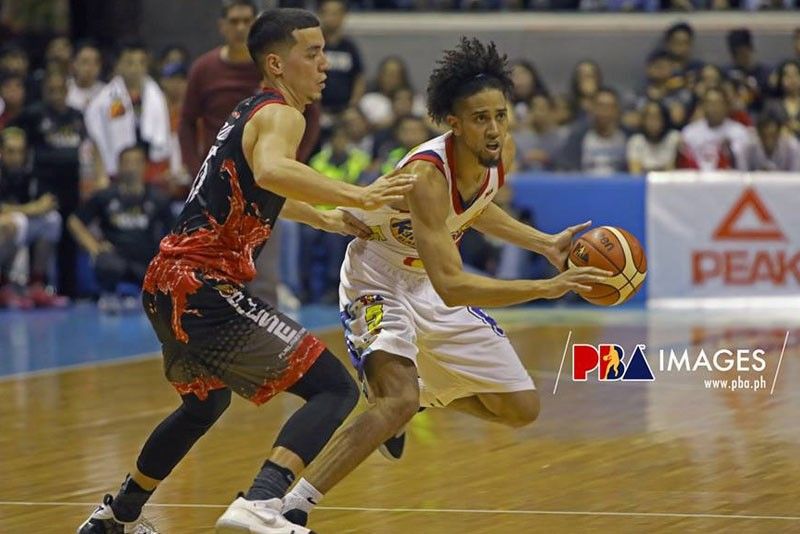 'Independents' rule PBA
MANILA, Philippines — The two teams on top of the PBA Philippine Cup standings at the moment are so-called "independents," a breakthrough in parity as none of the three San Miguel and three MVP squads are leading the pack.
In solo first is Rain Or Shine with a 6-1 record, winning its last four outings. Second is Phoenix at 5-1, with the Pulse Fuel Masters losing their first contest to the Elasto Painters, 98-94, in overtime at the Smart Araneta Coliseum last Sunday. It was Phoenix' third extension in six games this conference.
Phoenix dominated most of the statistical departments in the loss to Rain Or Shine but couldn't escape the setback. The Fuel Masters had more rebounds, 61-44, second chance points, 25-5, fastbreak points, 14-5, less turnovers, 14-16 and more field goal attempts, 98-74. The Elasto Painters, however, shot at a higher clip from the field, 47.3 percent to 38.8, and collected more assists, 23-19 and bench points, 49-33. In six wins, Rain Or Shine has held opponents to an average of 91.8 points.
Phoenix coach Louie Alas took responsibility for the defeat. "I coached horribly in the end-game," he said. "Two things made the difference – we had more turnovers and lots of defensive breakdowns. In overtime, we had three consecutive defensive breakdowns with time winding down on their shot clock. I told the guys kung gusto namin makarating sa next level, we need to make stops when we need to. Anyway, I admitted it was my fault we lost."
Alas dismissed the notion that the game could have been a preview of the finals. "Honestly, I'm not thinking about the championship yet," he said. "It's still so early in the conference. I just want to win as many games as possible."
Rain Or Shine coach Caloy Garcia was just as humble in assessing the situation. "Another lucky win," he said. Garcia singled out Beau Belga as a key to the team's surge. In the last three games, Belga has averaged 15.3 points, 5.3 rebounds and 6.3 assists. Before the season started, Garcia challenged Belga to take a more active leadership role.
"Beau took the challenge in a positive way," said Garcia. "He's taking more responsibilities with the team and he knows that everyone must be aware of his role and be ready to play on any given game. Practice has been so positive that everyone seems to be enjoying. It makes everything easier for a coach to see that when we make subs, they're all cheering for one another. The body language of the team itself is a positive note and that's why I feel that everyone has each other's back right now."
As for Belga aspiring for the Sportsmanship Award, Garcia said he doesn't think it will ever happen. "It's not in his nature but that's what we want because it brings us more energy," he said. Even Raymond Almazan, who sat out Rain Or Shine's final nine games last season due to a personal issue, is motivated to play to the next level. He's averaged 12 points in the last three games. "Raymond has been so different now ever since what happened in the last conference," said Garcia. "I feel that now, he understands more of what he can give the team. One thing is he understands that all our bigs can play. All he does now is just try to give his best and his defense has been a big factor for us. In practice, he works harder now than in the past. He's happy to see his teammates playing much better."
In the Phoenix game, James Yap was held to two points after averaging 16.3 the previous six contests. "James just had an off night but Phoenix also did a great job of not giving him his usual looks," said Garcia. "After looking at the stats, I notice we gave up too many offensive boards. We got lucky to still win. We were outscored, 25-5 in second chance points but we shot at a higher percentage so we made it up from there."
Garcia said there were several heroes in the win. "Mark (Borboran) gave us two huge closing games where he hit the big shots," he said. "Despite us getting beaten off the boards, Gabe (Norwood) came up big on an offensive rebound and Raymond also got one near the end when he got fouled and made both free throws. To be honest, I knew we would have a different team coming into this season when we tweaked our offense. We started enjoying practices. More players are working doubly hard. Players in the same position are cheering for their teammates. It's been a totally different team. Seeing these guys do their work every day and competing will put a smile on the face of any coach. If we could just be consistent in doing what we're doing, we can go far."
Garcia said zooming to the top of the ladder is a blessing but the challenge is to stay No. 1. "Learning to trust one another and understanding one's value can help us get better," he said. "6-1 is great but staying there is the challenge. I wasn't expecting us to be where we are now and that's what makes me proud of seeing the guys' hard work paying off." Rain Or Shine plays Magnolia next tomorrow while Phoenix returns to action against NorthPort on Feb. 27.