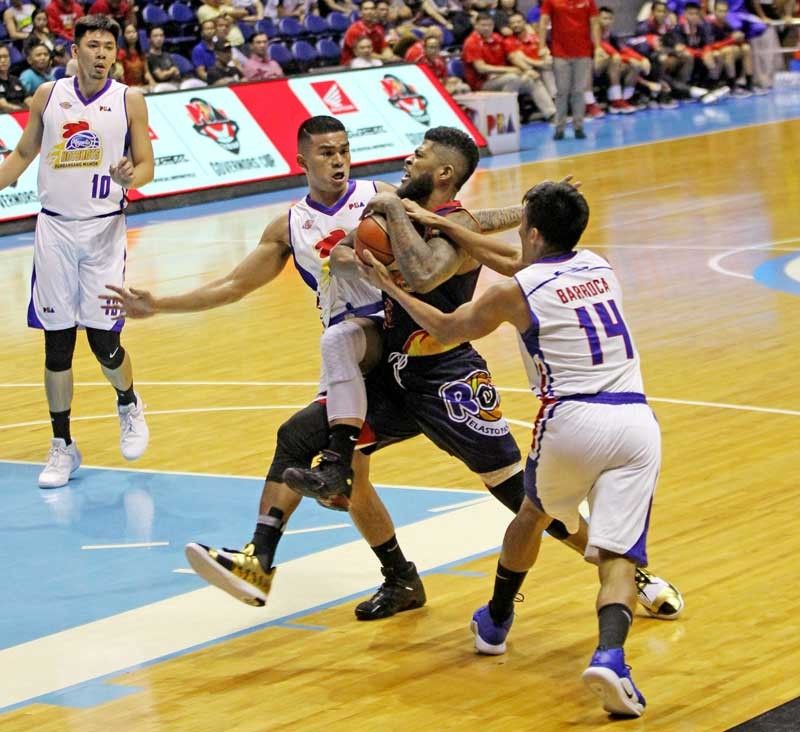 Hotshots pull even at 2-2
Survive Ros Endgame Chase
Game tonight (Cuneta Astrodome)
7 p.m. – Phoenix vs San Miguel
SMB leads series, 2-1
MANILA, Philippines — Magnolia jolted Rain or Shine with powerful opening blows then held off a James Yap-led late uprising to escape with a 94-91 victory and tie their PBA Philippine Cup semifinal series at 2-2 last night at the Smart Araneta Coliseum.
The Hotshots, who took control by opening hostilities with eight unanswered points, squandered huge leads that reached as many as 21 but survived in the end, gaining from a critical Yap turnover and crucial free throws from Jio Jalalon to pick up a second straight win.
"The players stepped up today. We knew we had to come out hard because this is a very crucial game for us. The players used their experience, energy and aggressiveness to win this game," said Magnolia coach Chito Victolero, whose wards now have a chance to wrest the upperhand in Game Five.
Victolero used a balanced scoring attack to take this one over an RoS side that missed mentor Caloy Garcia in the homestretch after incurring his second technical foul while complaining against a non-call late in the third.
Ian Sangalang (19), Paul Lee (15), Jalalon (12), Justin Melton (11), Mark Barroca (11), Rafi Reavis (10) and Rome dela Rosa (10) delivered double-digit outputs as Magnolia spoiled the best performance of Yap in the series.
Yap sizzled with 24, making 10 of them in the final canto.
"We knew Rain or Shine will come back but we held on to our lead," said Victolero. "A win is a win, whether by 20 points, 10 points, three points, I will take it. This is a series and we need all the wins we can get."
Meanwhile, emboldened by its Easter Sunday feat, Phoenix Pulse bids to make it two in a row against defending champion San Miguel Beer in Game Four of their own semis series tonight at the Cuneta Astrodome.
Tip off is at 7 p.m.
Notes: The Magnolia Hotshots and Rain or Shine E-Painters were already at the Big Dome, doing the shootarounds when it jolted hard. Like everyone else, they exercised caution and went outside....The protagonists joined a prayer for the safety of everyone following the strong quake and for the people of bombing-hit Sri Lanka right before tipoff....Rookie Bobby Ray Parks, Jr. attended his first practice session with Blackwater yesterday. Parks was picked second overall by the Elite in the 2018 rookie draft but missed out the Philippine Cup due to his commitment with Alab Pilipinas in the Asean Basketball League.
The scores:
Magnolia 94 – Sangalang 19, Lee 15, Jalalon 12, Melton 11, Barroca 11, Reavis 10, Dela Rosa 10, Brondial 4, Ramos 2, Herndon 0, Simon 0.
Rain or Shine 91 – Yap 24, Mocon 14, Norwood 10, Nambatac 9, Borboran 9, Belga 7, Ahanmisi 7, Daquioag 5, Ponferada 4, Rosales 2, Torres 0.
Quarterscores: 28-20, 56-37, 80-64, 94-91.