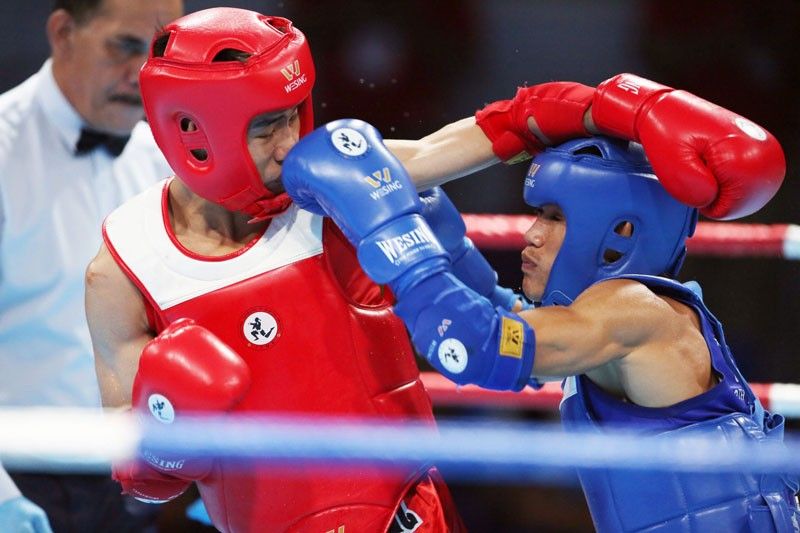 Pinoys deliver in Muay Thai
MANILA, Philippines — From picking up scraps and digging mine to etching history for Philippine muay thai.
Former scavenger Phillip Delarmino and ex-miner Ariel Lee Lampacan yesterday spearheaded the Philippine team's impressive campaign by winning a pair of gold medals at the Subic Bay Exhibit and Convention Center here.
Delarmino fended off Long Doan Nguyen of Vietnam, 29-28, in the 57-kg bout while Lampacan clawed from behind to upset favorite Sakchai Chamchit of Thailand, 29-28, in the 54-kg fight for their first gold medals in the SEA Games.
Phillip Delarmino scores against Long Doan Nguyen of Thailand in their 57kg match.
Russell Palma
The victories atoned for the bridesmaid finishes of Islay Erika Bomogao (45-kg), Jenelyn Olsim (54-kg) and Ryan Jakiri (63.5-kg), who bowed to Ketmanee Chasing of Thailand, Bui Yen Ly of Vietnam and Thailand's Norapat Khundam, respectively.
Courtesy of the men's waikru mai win of Jearome Calica and Joemar Gallaza in the opener earlier this week, the Nationals finished with an amazing three-gold, three-silver and three-bronze haul just behind overall muay thai champion Thailand with four golds.
It was a massive improvement for the Phl fighters after a mere one-bronze tally in the Kuala Lumpur SEA Games two years ago.
But more than the glory they have contributed to the country after a series of heartbreaks in the previous SEA Games, the reward will weigh heavier for the families of both Delarmino and Lampacan after a life-long struggle.
"It's a blessing for me. I remember myself just sidelining as a scrapper in the past to support my studies. Then now, I'm already a SEA Games gold medalist. Life indeed comes full circle," said Delarmino, a fifth child from a six-strong household headed by farmer parents in Dumangas, Iloilo.
As sweet as this victory was for the 29-year-old Delarmino, whose highest finish was a silver medal in 2013 Myanmar SEAG, an even bigger battle awaits him.
"I'm setting it (incentive) aside first for the possible operation of our baby for she has some heart complications," the emotional Delarmino said when asked about his gold medal reward.
Lampacan also had a story to tell.
"It's a long story," the Baguio-native said, referring to his humble beginnings before joining the national muay thai team. "Life way back was hard. I did not finish studies for I have to work at an early age, mining through the (Benguet) mountains with my father. There's no other work for us in there."
Lampacan had to endure mining around 300-400 sacks of soil before fortunately finding a gram or less of gold.
The process, according to him, molded him to what he is today – a gold medalist.
"There's a long, tiring process to find gold. You would need to extract soil first from cave for at least 2-3 months before getting a hand on the gold. It's all about patience and hardwork."
The experience paid off for Lampacan and Delarmino.
Delarmino is a scavenger no more and Lampacan a miner no more. They're muay thai champions in the SEA Games.
They've found gold.