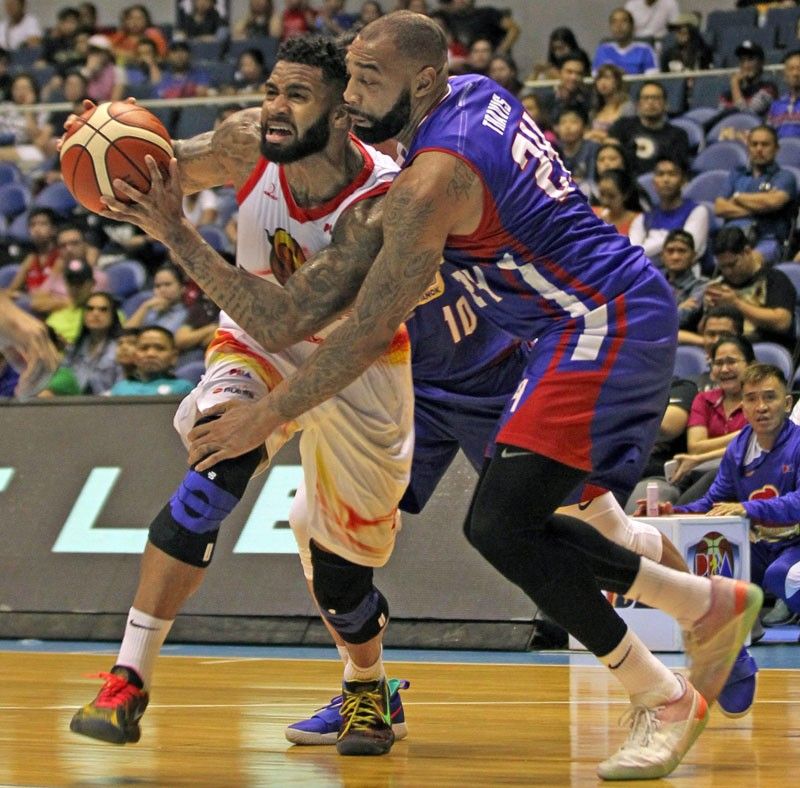 Fuel Masters deal Hotshots first loss
Kings prick Beermen in duel of injured teams
MANILA, Philippines — Phoenix Petroleum clamped down on Magnolia's top gunners and unleashed import Eugene Phelps for another mighty all-around performance as the Fuel Masters carved out a 95-82 win to solidify their playoff aspiration in the PBA Governors Cup at the Smart Araneta Coliseum last night.
Phelps collected game highs of 36 points, 20 rebounds and four blocks, and his local teammates came out to also outperform their Magnolia counterparts to deal the Hotshots their first defeat in the season-ending tourney.
As Magnolia dropped to fifth place with a 2-1 win-loss card, Phoenix rose to second place at 5-1, just behind Blackwater at 4-0.
And the Fuel Masters intend to keep going in a bid to make the PBA post-elims play for the first time since last year's Commissioner's Cup.
"We're No. 2 but a number of teams were closely bunched on top. You have to win as much as you can as the target in this conference is to be in the Top Four," said Phoenix coach Louie Alas.
After the one-round-robin elimination phase, the top eight advance to the quarterfinals where the top four will enjoy a twice-to-beat advantage against the lower four.
Alas was ecstatic with their win against Magnolia as it kept their momentum going entering the second half of the elims where they will be up against tough teams Barangay Ginebra, NLEX, Rain or Shine, San Miguel Beer and Blackwater.
"Finally, we beat Magnolia which I consider among the best teams in the league especially on defense. We're able to put a clamp on their offensive guys," said Alas.
Paul Lee, Mark Barroca and Ian Sangalang were contained by the efficient Phoenix defense. Romeo Travis came through with 28 markers and 19 boards but was forced to commit seven turnovers.
The Fuel Masters stepped up on both ends in the last eight minutes of the game, making a crucial separation from a close 75-72 count.
"Actually, we started strong only to get back into our old habit nung lumamang kami ng malaki," said Alas.
Phelps, LA Revilla, Calvin Abueva, Matthew Wright and Jason Perkins formed the Phoenix unit that made a key run in the fourth, opening a 12-point spread at 87-73, entering the last three minutes of the game.
Barangay Ginebra topped San Miguel Beer in a duel of teams crippled with injuries to key players, banking largely on the triumvirate of Justin Brownlee, Aljon Mariano and Joe Devance to carve out a 110-102 win later in the night.
"We're fortunate that June Mar (Fajardo) and Marcio (Lassiter) didn't play for them. On the other hand, we also had guys not playing as well. It's a key game for both, and we're happy to pull this one," said Ginebra coach Tim Cone as they jacked up their record to 4-1 at third place.
San Miguel dropped to 2-2.
The scores:
First Game
Phoenix 95 – Phelps 36, Wright 13, Chua 12, Abueva 9, Revilla 9, Jazul 9, Perkins 7, Intal 0, Wilson 0.
Magnolia 82 – Travis 28, Barroca 11, Sangalang 11, Jalalon 11, Lee 8, Ramos 6, Dela Rosa 3, Melton 2, Gamalinda 2, Pascual 0, Reavis 0, Brondial 0, Herndon 0.
Quarterscores: 30-19, 48-48, 71-67, 95-82
Second Game
Ginebra 110 – Brownlee 29, Mariano 20, Devance 17, Tenorio 9, Caguioa 8, Ferrer 8, Chan 7, Caperal 6, Thompson 5, Manuel 1.
San Miguel 102 – Standhardinger 25, Santos 22, Ross 18, Reid 13, Cabagnot 10, Nabong 8, Pessumal 6, Heruela 0, Rosser 0.
Quarterscores: 22-21, 49-44, 76-70, 110-102