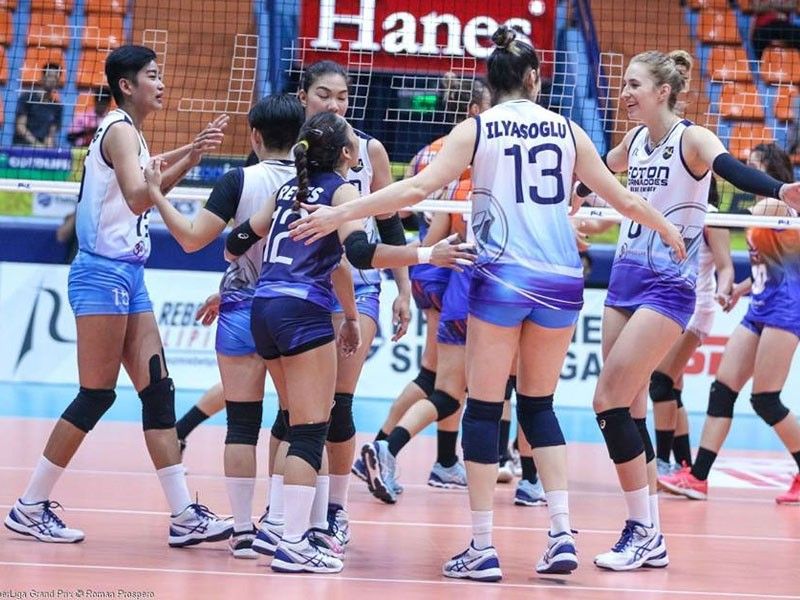 Foton still hoping for dramatic turn amid poor start
MANILA, Philippines – Despite a rusty start, Foton remains optimistic that it can turn things around and contend for the Philippine Superliga Grand Prix title.
Team manager Diane Santiago on Tuesday said everything is not yet lost on the Tornadoes following their 1-6 start in the first round of this prestigious women's club tournament.
She said with new import Milagros Collar of Spain and star middle blocker Dindin Manabat on board, they are geared up to come up with a furious run to give heavyweights Petron, F2 Logistics and United VC a serious fight.
Collar arrived over the weekend and is set to replace Selime Ilyasoglu of Turkey as one of the two reinforcements together with Courtney Felinski of the United States.
On the other hand, Manabat is fresh from a long campaign with Toray Arrows in the V.Premier League in Japan and will replace Kathleen Barrinuevo in the roster.
They already secured their respective clearances and would be available to play on Tuesday against Petron.
"Our hopes are still high," said Santiago, the sister of Foton stars Manabat and Jaja Santiago.
"The second round will be very crucial. So we have to work doubly hard starting Tuesday to turn things around and join the hunt for the Grand Prix title. Every game will be very important."
The Grand Prix has been Foton's turf.
In fact, the Tornadoes are the only back-to-back Grand Prix champion after Lindsay Stalzer and Katie Messing led them to the 2015 crown. Then, Stalzer returned and connived with Ariel Usher to win the title the following year.
Stalzer, however, defected to Petron where steered it to a runner-up appearance in 2017 and a title in 2018.
This year, the seasoned American reinforcement is donning the black and gold of the Cargo Movers, who lost only once in the seven-game first round.
Foton, for its part, was shoved out of the championship picture in the Grand Prix and managed to deliver only a pair of bronze medals in 2017 and 2018.
But this year, the Tornadoes want to come up with a feel-good story to their campaign.
"We're not promising anything, but we'll definitely go hard every game," Santiago said.
"Milagros and Dindin are adjusting with their new teammates really well. We hope it would be the start of something good for us in the second round."