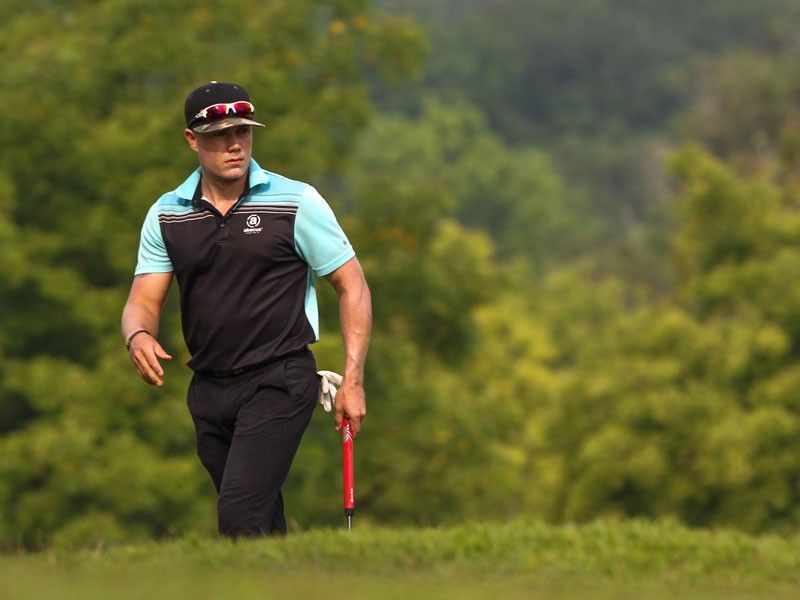 Finnish toughens up, wrests 3-shot lead with 68
TARLAC ­– Foiled in his crack at the lead with a shaky windup Tuesday, Teemu Putkonen produced a solid finish to not only seize control but also gain a big cushion heading to the final round of the ICTSI Luisita Championship here Wednesday.
The Finnish hit three birdies in the last eight holes, including two in the last three from 15 feet, to card a second straight four-under 68 and move past erstwhile leader Guido Van der Valk, now three strokes ahead with a 54-hole aggregate of 10-under 206.
"My driving, irons and short game were simply good," said Putkonen, who hit a superb 3-wood second shot from 260 yards and drilled an 11-foot putt for eagle on the par-5 No. 5 to spike his opening 35 that featured one birdie against two bogeys. "The wind hardly blew and it wasn't hot out there today."
He hit another birdie on No. 11 before closing out with birdies on Nos. 16 and 18, moving 18 holes away from finally nailing the dream win.
"I'm not used to making predictions but I'll just play my game and hopefully I'll make it tomorrow," said 30-year-old shotmaker from Jarvenpaa, a 30-minute drive from Helsinki, who tied for 18th at PGT Asia Riviera last month.
Van der Valk, who pounced on Putkonen's late-hole mishap to wrest the lead after 36 holes behind a fiery backside run of 31, failed to sustain his second round 65, settling for a four-birdie, four-bogey game for a 72 to drop to second at 209.
The Manila-based shotmaker said he would need to shoot a six-under to earn a shot at the crown, stressing: "A three-stroke lead isn't safe here but it will still be difficult to catch him (Putkonen)."
A host of others churned out low scores in near-ideal conditions to get into the mix heading to the final 18 holes of the event serving as the kickoff leg of the Philippine Golf Tour Asia third season with Spain's Marcos Pastor matching Van der Valk's seven-under card in the second round with a solid 33-32 highlighted by an eagle on No. 16.
Pastor, who topped the PGT qualifying tournament and tied for third in the PGT Asia elims, moved to joint third at 210, still four strokes behind Putkonen but gained some momentum in pursuit of a maiden victory in the event organized by Pilipinas Golf Tournaments, Inc. and backed by PLDT Enterprise, Meralco, BDO and PGT Asia official apparel Pin High.
Joining him at third are Korean-American Micah Shin, who also got back into the thick of things with a 67 spiked by a backside 30, Japanese Keita Sudo, who shot a 70, and Thais Natthapong Niyomchon and first round leader Namchok Tantipokhakul, who carded a 70 and 72, respectively.
"I changed my style and I hit my wedge shots pretty good," said Shin, who actually scored his maiden win here at Luisita in 2016 when he bested a tough field to win the CAT (Central Azucarera de Tarlac) Open.
Thai Donlaphatchai Niyomchon also sizzled with a 68 for joint eighth at 211 with compatriot Tawit Polthai, who turned in a 69 while Tony Lascuña showed flashes of his old brilliance and fired a bogey-free 68.
But the multi-titled Davaoeño shotmaker remained too far behind Putkonen at 212, six shots off, as erstwhile local contender Jay Bayron bombed out with a 74 and fell to joint 15th at 213.
"I still couldn't get it right with my putts. I could've have moved closer had I made at least two more birdies," said Lascuña, who hit all but one fairway and missed just two greens although he rued a couple of birdie chances that could've boosted his third round charge. He ended up with 30 putts.
Justin Quiban, a former PGT Asia leg winner, also came through with an eagle-spiked 66 to join Lascuña at 10th with compatriot Arnold Villacencio, who shot a 70, Singapore's Choo Tze Huang, who matched par 72, and Thai Kammalas Namuangruk, who hobbled with a 73.
But the fight for the top $17,500 could be reduced to the top seven players although Putkonen looked headed to finally nailing the elusive win with a big cushion and a confidence boosted by a string of under-par cards that included an opening 70.