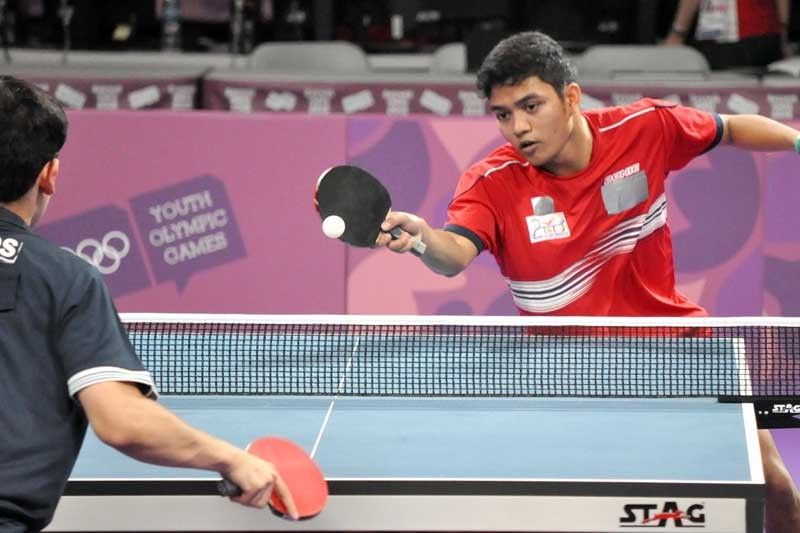 Filipino table netter rises, falls in YOG
BUENOS AIRES – After hurdling his opening assignment, Filipino Jann Mari Nayre stumbled in his next as the table tennis competition in the third Youth Olympic Games got going Monday at the Tecnopolis Center here.
Nayre was never in danger beating Nicolas Burgos of Chile, 11-9, 6-11, 11-9, 11-6, 11-8, in their morning match. Then he returned seven hours later to face Maciej Kolodziejczyk of Austria, who is even ranked lower than his first opponent.
The long break heading to the evening session slowed Nayre down.
Things turned sour for the 18-year-old Filipino, who remains unseeded in the world under-18. He never got going before a small group of Filipino athletes and officials who came to watch him play, and fell in straight sets, 11-9, 11-8, 11-1, 11-6.
The Filipinos had hoped for a better showing against Kolodziejczyk, ranked No. 33 in the world under-18. Burgos is ranked No. 27.
Nayre could only shake his head in disbelief dropping the opening set and losing an 8-4 lead in the second. He was slow to react against the Austrian, muffing shots he would normally kill. By the third set, he was yelling at himself.
A victory over Kolodziejczyk should have sent Nayre into the round-of-16. Now, he's in a do-or-die situation Monday afternoon against Kanak Jha of the United States, the No. 1 ranked player in the world under-18.
Nayre offered no excuses after the loss.
"Sorry, sorry," said his South Korean coach, Kwon Mi-sook, who's been coaching Filipino table tennis players pro bono.
"Tomorrow, US," she added as Nayre headed straight to the adjoining court to watch the dreaded American beat Burgos, 11-8, 11-9, 8-11, 9-11, 11-1, 11-8.
Nayre will have his back against the wall trying to beat the American top seed, and hoping to advance to the knockout stage on Tuesday.
"But anything is possible," said Philippine Olympic Committee secretary-general Patrick Gregorio from the stands of the table tennis venue.
"I have not faced him before," said Nayre of Kanak.
Two more Filipino athletes plunge into action Monday – Boracay-based Christian Tio in kiteboarding and California-based Nicole Justine Marie Oliva in the women's 100m freestyle heats.
Hopes are high for the 17-year-old Tio, who qualified for this YOG by ruling the Iconic Kite-Surfing Youth Olympics Asia/Oceania Qualifiers in Thailand last March.
Three other Pinoy bets will see action on Tuesday, from golfers Yuka Saso and Carl Jano Corpus to fencer Lawrence Everett Tan.
Archer Nicole Tagle makes his YOG debut on Oct. 12.