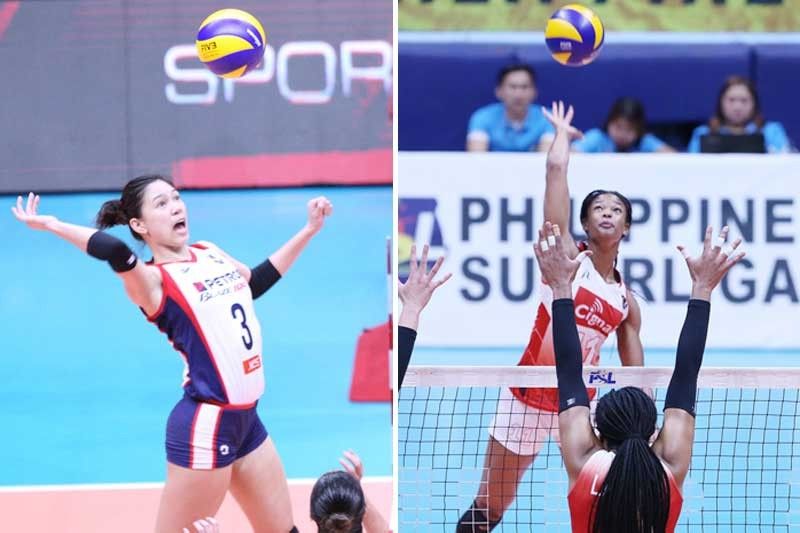 Explosive PSL Final Four on tonight
Games today (Filoil Flying V Center)
4:15 p.m. – F2 Logistics vs PLDT
7:00 p.m. – Petron vs Cignal
MANILA, Philippines — Petron Blaze resumes its quest for a perfect season as it clashes with Cignal HD at the start of the best-of-three semifinals of the Philippine Superliga Grand Prix at the Filoil Flying V Center in San Juan City today.
The Blaze Spikers have swept the elimination in 14 games in an impressive stretch where they conceded just a single set and made quick work of the Sta. Lucia Lady Realtors, 25-17, 25-11, 25-18, in the quarterfinals on April 6.
Thus, Petron arranged a showdown with Cignal, which made it through after a 25-22, 18-25, 25-21, 25-20 triumph over United Volleyball Club on April 9, in a series the former is expected to dominate having swept the latter, 25-20, 25-21, 25-19 on March 9 and 25-10, 25-7, 25-19, exactly a week later.
Game time is set at 7 p.m.
The power-hitting pair of Stephanie Niemer and Katherine Bell has been the focal point of Petron's recent success but Petron coach Shaq delos Santos likes to think they rely more on the strength of the local players.
"We have great imports, very professional and can adjust in different situations," said Delos Santos in Filipino. "But I think the winning run is truly a total team effort from everyone in the team, not just the imports."
Cignal, meanwhile, hopes to rely on the momentum built on its solid quarterfinal win.
"I think we have already found the winning formula entering the semis," said Cignal mentor Edgar Barroga.
Second seed F2 and No. 3 PLDT Home Fibr start their own semis series at 4:15 p.m.
While the Power Hitters are the underdogs, their shock 25-20, 23-25, 25-21, 25-18 win over the Cargo Movers in the second round of the prelims last March 16 should give them confidence to pull off an upset.
"We're definitely the underdogs but we're no pushovers," said PLDT coach Roger Gorayeb.
PLDT went to Kendra Dahlke and Grace Lazard in turning back stubborn Generika in two games including a nail-biting 25-15, 25-20, 24-26, 25-27, 15-12 win last week. Dahlke exploded for 37 points then, including 33 on kills.