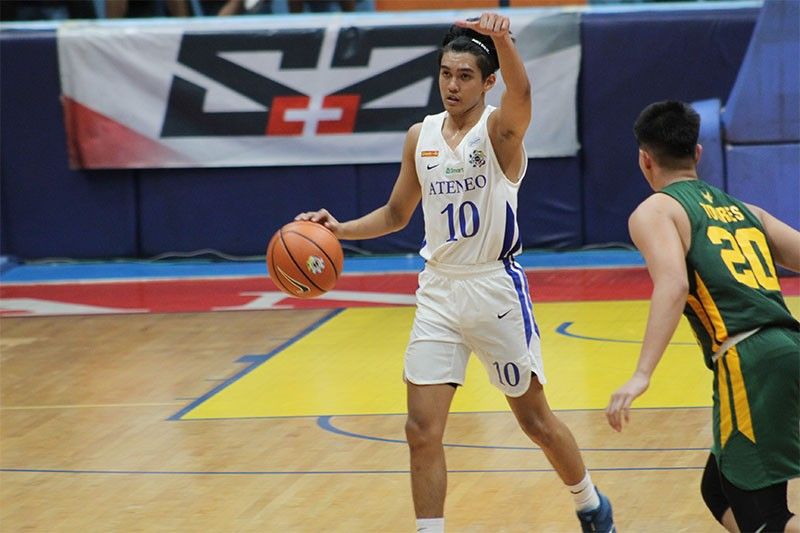 Eaglets repel Baby Tams, seal finals rematch vs Baby Bulldogs
MANILA, Philippines – Defending champions Ateneo Blue Eaglets took care of business against the FEU Baby Tamaraws, 90-82, to book the last UAAP juniors finals seat at the FilOil Flying V Centre.
Led by Kai Sotto's 20 points and Joaquin Jaymalin's five 3-point baskets, the Katipunan-based junior cagers were able to weather FEU's offense.
Both squads went back and forth to start the match, with five deadlocks in the opening quarter.
The teams were tied at 18-all coming into the second.
Just when it looked to be a close one all game long, the defending champs uncorked a blistering 12-0 run to put them up 30-18 to start the second quarter.
FEU was held scoreless until the 4:18 mark of the second canto.
The Baby Tamaraws just struggled to bring back their offense and finished the first half down by 10, 29-39.
Just when Ateneo looked to run away with the game, FEU recovered in the third with a much-needed scoring run to cut the lead to five, 45-50.
But the Eaglets refused to give up the advantage and amped up their offense.
Sotto and the Eaglets became more aggressive inside and outworked the FEU squad to build up their lead once again.
Ateneo's Forthsky Padrigao went down with a cramp in the fourth quarter and was assisted off the court.
With the clock winding down, the Baby Tamaraws once again made an effort to get themselves back in the game, cutting Ateneo's lead to seven, 80-87, with 35 seconds left.
Sotto then split at the free throw line to increase their lead to eight. But an FEU basket once again put Ateneo in hot waters with 10 seconds remaining.
Thankfully for Ateneo, Geo Chiu made two foul shots to give them more breathing space.
The deficit proved too much as FEU eventually ran out of time to catch up.
The Eaglets will now defend their title in a rematch with the top-seeded NU Bullpups, who swept them in the elimination round.