Sport
Celtics' Jaylen Brown leads march for George Floyd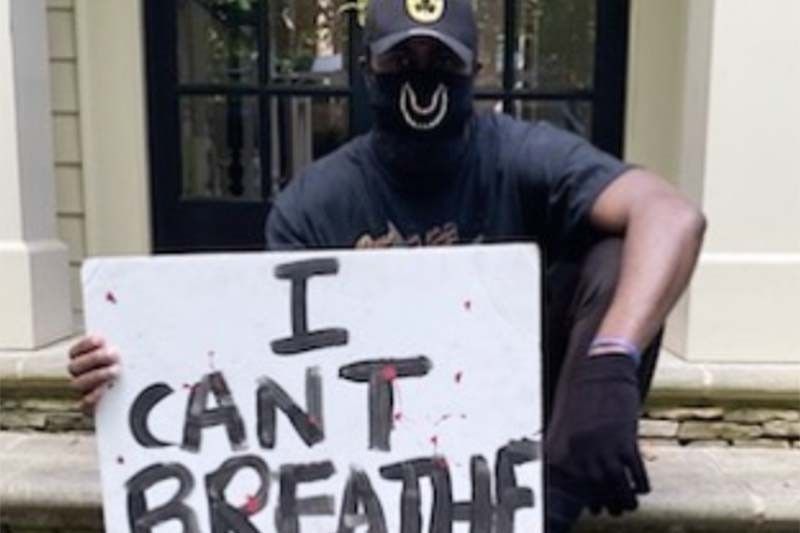 MANILA, Philippines — The Boston Celtics' Jaylen Brown led a peaceful protest in Atlanta in the wake of black man George Floyd's death.
The Celtics forward drove over 15 hours from Boston to Atlanta to lend his voice for Floyd, who died while in police custody.
"It's a peaceful protest," Brown said in an Instagram video.
"Being a celebrity, being an NBA player don't exclude me from no conversation at all. First and foremost, I'm a black man and I'm a member of this community, and I grew up on this soil," he added.
Brown carried a sign that read "I can't breathe" -- a phrase that Floyd had said repeatedly to police officer Derek Chauvin, who knelt on Floyd's neck until he died.
Fellow NBA player Malcolm Brogdon joined Brown's protest. Both Brogdon and Brown are vice presidents of the NBA Players Association.
"Our voices need to be heard," Brown said.
"I'm 23 years old. I don't know all the answers. But I feel how everybody else is feeling. For sure. No question," he added.
During the march, Brown used a megaphone to lead a call-and-response chant.
"No justice," Brown shouted, "No peace," the crowd responded.
Despite the peaceful nature of the protest, Brown tweeted that three protesters were "wrongfully arrested" during the demonstration.
3 people were wrongfully arrested today this was a peaceful protest!!

— Jaylen Brown (@FCHWPO) May 31, 2020
Other NBA players like Minnesota Timberwolves' Josh Okogie and Karl Anthony-Towns also joined protests in their local communities.
Former NBA cager Stephen Jackson was also a big voice in the movement. Jackson was a friend to the deceased Floyd, calling the 46-year-old his "twin".
Floyd's death has sparked numbers of protests across the United States. Chauvin has since been arrested with murder and manslaughter charges.