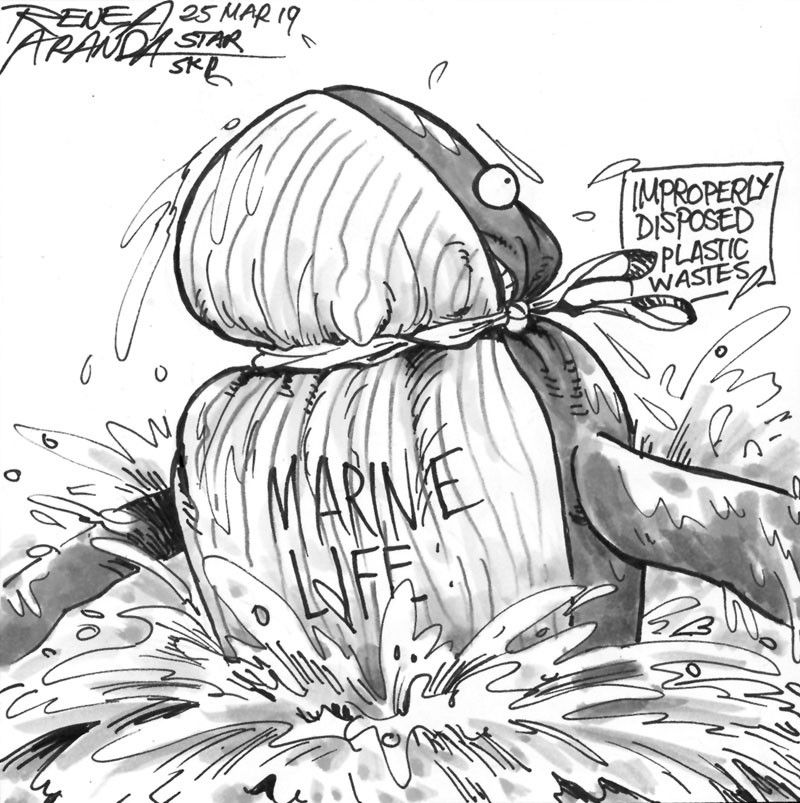 Whale killers
In the Compostela town of Mabini last March 15, a juvenile Cuvier's beaked whale was found ashore and died shortly. When opened up for inspection on the cause of death, the beached 500-kilo creature had 40 kilos of plastic waste in its belly.
A marine biologist listed the plastic items, which included 16 rice sacks, four bags used in banana plantations and numerous types of shopping bags. Unable to ingest food due to the plastic, the whale died of starvation a day after its beaching.
It's not the first time that a marine creature has died because of plastic ingestion. Marine turtles have also been found dead with plastic waste in their guts. Their deaths are a frustrating reminder of humans' filthy habits and improper waste disposal despite the numerous warnings about the risks posed by plastic items to the environment.
Despite such warnings, plastic containers have a unique function that other materials such as paper cannot provide. In places where plastic bags have been banned, double layers of thick paper bags are now used for items such as meat and fish that are first placed in plastic wraps or thin, translucent plastic bags and Styrofoam containers. So-called eco bags cannot be used for wet items. Studies have also shown that laundry soap for cleaning eco bags pollute the water and threaten aquatic life.
Scientists continue to work on alternatives to plastic for containing items that need protection from moisture. Several shopping malls and supermarket chains have switched to biodegradable plastic bags in place of single-use plastics. But environmental groups now say that even the biodegradable materials do not break down completely and instead turn into plastic microparticles that pose risks to marine life.
In the absence of a suitable replacement for plastic, there must be emphasis on proper garbage disposal, including solid waste segregation. Companies that manufacture plastic products have emphasized that they need discarded plastic, including shopping bags, for recycling into items such as PVC pipes and other construction and industrial materials.
The discovery of plastic sacks in the belly of the dead whale indicates the filthy habits of people who think the sea is their personal garbage receptacle. Local governments, starting at the barangay level, can compel people to comply with laws on proper waste disposal. It's possible to prevent or minimize the indiscriminate dumping of plastic. Residents of fishing communities in particular must be made to realize that their livelihoods depend on keeping the waters clean.