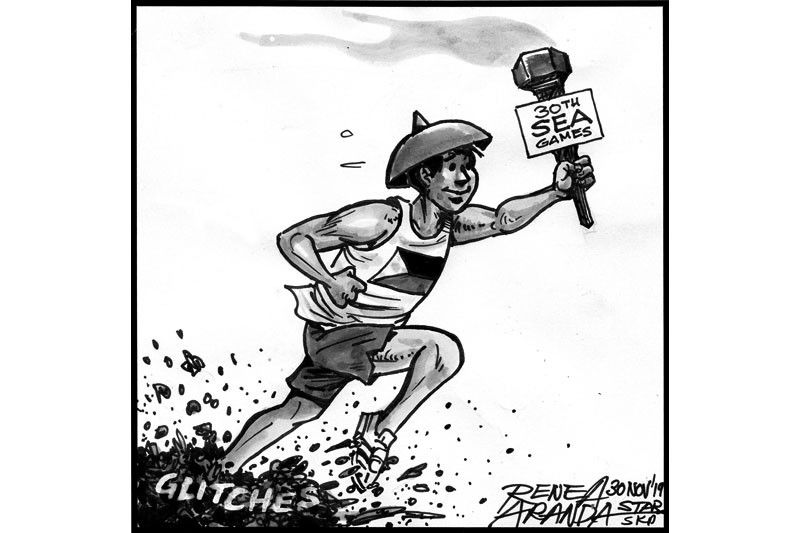 Described by his spokesman as infuriated, President Duterte has vowed an investigation of the issues that have marred the country's hosting of the 30th Southeast Asian Games. He wants certified public accountants, possibly retired from the Commission on Audit who are familiar with government rules, to work with lawyers in ferreting out any corruption that might have led to the SEAG snafus.
There will be no sacred cows, Malacañang has vowed. To be covered by the probe, which will be conducted by the Office of the President, are the Philippine Southeast Asian Games Organizing Committee headed by the President's running mate in 2016, Speaker Alan Peter Cayetano, and the Philippine Sports Commission.
On orders of Malacañang, various government agencies have since taken over several aspects of the hosting, including food, accommodations and logistics. By Thursday, the snafus appeared to have been significantly minimized. This has raised hopes that today's formal opening of the Games would proceed smoothly, and the rest of the two-week hosting would be as glitch-free as possible.
After the blunders of the previous days, the nation can come together not only to cheer on the home team but also to help make this hosting a success. Filipinos are renowned for hospitality to friends and strangers alike. There's still time to show SEAG participants that it truly is more fun in the Philippines.
The official slogan for this year's SEAG is "We Win as One." The motto is for the Southeast Asian states participating in the Games, but the same message can apply to the Philippines. While rooting for the country's athletes, it's also good to bear in mind that the success of this hosting is the success of every Filipino.