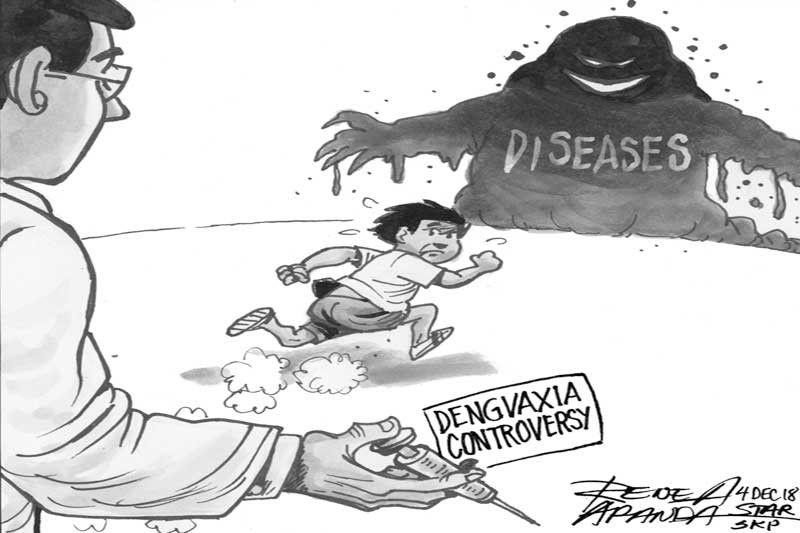 Vaccine scare
The World Health Organization has expressed concern over the deaths of at least 18 children including infants in a remote village in Malapatan, Sarangani over the past month. The children reportedly showed symptoms of measles. Officials of Barangay Upper Suyan said about 100 measles cases were recorded in their village alone.
The deaths followed measles outbreaks recorded throughout the year by the Department of Health in various areas of the country including the Davao region, Negros Oriental, Zamboanga City and a village in Taguig. The DOH reported that from January to November, measles cases went up by 367 percent from the previous year, from 3,706 to 17,298.
With the year approaching its end, immunization rates have plummeted nationwide, thanks to the scare triggered by the scandal that erupted over the administration of the Dengvaxia anti-dengue vaccine to more than 830,000 public school students, many of them in grade school.
The concern is not unfounded; pharmaceutical giant Sanofi Pasteur belatedly issued qualifications for the safe use of the first-ever vaccine developed against dengue. Officials of the previous administration are facing charges in court for what accusers say was the careless and hasty implementation of the anti-dengue vaccination program.
Claims of deaths caused by the vaccine have been made but remain unproven. But the claims have set off a scare bordering on hysteria, which has dealt a serious blow to all the immunization campaigns of the government and posed risks to public health.
DOH personnel are still trying to explain to the public that the vaccines for dengue and the many other illnesses that have been tamed by immunization are different. But public apprehensions persist. WHO officials estimate that from a high of 93 percent in 2015, vaccine confidence among Filipinos has plummeted to 32 percent this year. From zero incidence in 2015, measles has re-emerged in epidemic proportions.
The DOH reports that this year, the government has fallen way below its annual target of vaccinating 85 to 90 percent of children against a wide range of diseases other than dengue. This problem should be confronted with urgency before the lack of immunization triggers a spike in child mortality.