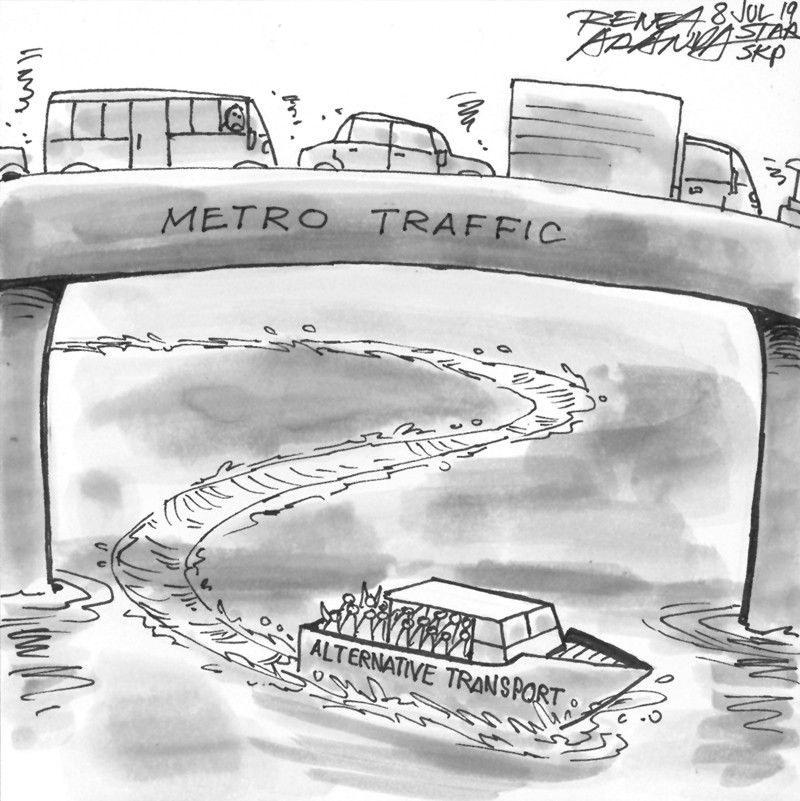 The government is speeding up the development of Sangley Airport in Cavite to absorb general aviation and certain domestic flights from the congested Ninoy Aquino International Airport. The next problem that must be confronted is transporting plane passengers from Sangley to Metro Manila and nearby destinations.
Sangley, where the Philippine Air Force has a base, is located on the northern tip of the Cavite peninsula. The Manila-Cavite Expressway or CAVITEX, which connects Las Piñas to Bacoor City and Kawit in Cavite over Bacoor Bay, has drastically cut travel time between the two points, although the toll of P60 for just 14 kilometers has kept away most motorists, and traffic remains heavy along the old highway. From the CAVITEX exit in Kawit, however, it will be a slog to Sangley, with traffic also heavy on Cavite roads.
If the government wants to maximize the use of Sangley as a secondary airport, it must be developed into an integrated transportation hub. Providing train and point-to-point bus services for plane passengers going to Metro Manila and neighboring areas must be considered, even if such projects may take years to finish.
One proposal that can be realized in a shorter time is a commuter boat service between Sangley and Metro Manila, integrated with the Pasig River ferry service, which is being revived. Ferry service can ease traffic congestion in Metro Manila, but the Pasig River and Manila Bay have yet to be fully utilized for this purpose.
Ten agencies are currently working on the Pasig River Convergence Program, with P2 billion allotted this year for reviving the river ferry service. Seventeen stations are being constructed, in addition to the 12 already operational along the 25-kilometer stretch of the river from Manila to Marikina. Smaller commuter boats are also being procured.
Like trains, ferry services have the advantage of being unimpeded by road traffic. They can also dramatically cut travel time between two points. People can commute to jobs and schools in Metro Manila, for example, even if they live in Bataan if there is an efficient ferry service in Manila Bay.
Traveling to and from Sangley Airport will be faster and can even be enjoyable on a ferry through the bay. Ferry stations can also stimulate commercial activity. Waterways are underutilized for mass transportation in crowded Metro Manila. The mega city and Sangley can use a ferry service.