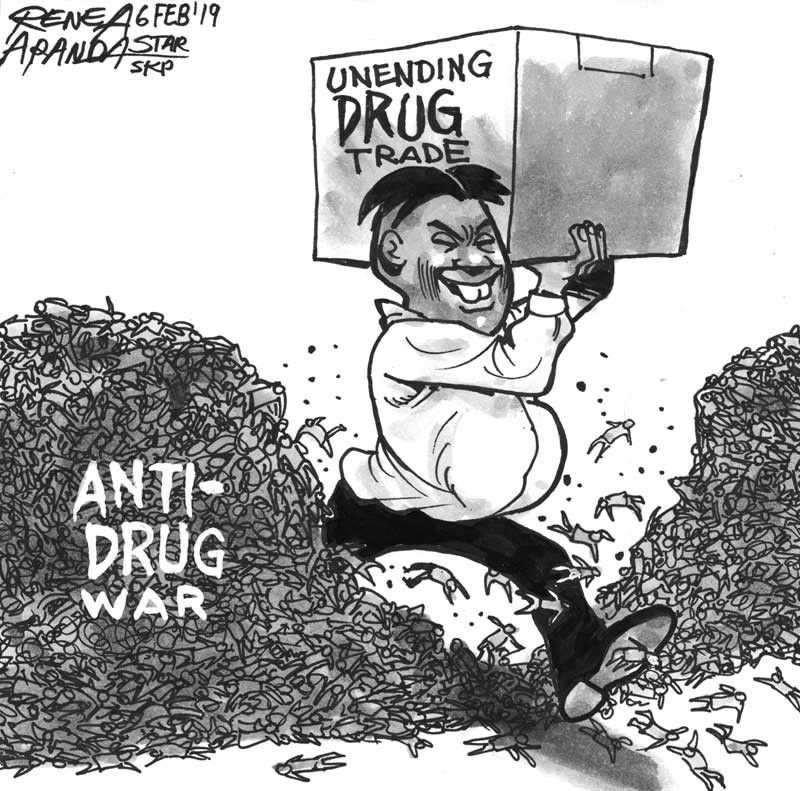 Undeterred
With about 5,000 people killed in police operations against the illegal drug menace since July 2016, you'd think the drug dealers would be staying as far away from the Philippines as possible.
Yet shabu continues to be brought into the country, and not just in trickles, but apparently by the ton. This is according to Aaron Aquino, who heads the office mandated by law to lead the battle against illegal drugs, the Philippine Drug Enforcement Agency. Clearly, there are weak links in the war on drugs that are being exploited by the traffickers.
The latest PDEA haul indicates the extent of the continuing problem. In a raid on a warehouse in Tanza, Cavite, PDEA agents reported finding 274 kilos of shabu with a street value estimated at P1.9 billion. Two men who turned out to be Chinese nationals were killed when they shot it out with the raiders, PDEA officials said.
A triad operating in China and Hong Kong, called the Golden Triangle after the opium-producing border region in Southeast Asia, is being eyed in the shabu shipment. PDEA officials are pursuing reports that the shabu was unloaded in the waters off Tanza and brought to Cavite for repacking and distribution in Metro Manila.
Similar operations have been reported in the coastal areas of Pangasinan and other parts of the archipelago. The huge profits to be made from illegal drugs can make people risk being killed by police. Drug money has bankrolled the campaigns of some politicians; elections are among the best ways of laundering dirty money in the Philippines.
In several countries in Asia and South America, Filipinos have also risked capture and possible state execution in exchange for the large fees paid to act as mules for international drug traffickers.
Such issues call for other approaches in the campaign against illegal drugs. Corruption in the Bureau of Customs allows drug smuggling to thrive; the BOC is one of the weakest links in this campaign. The porous coastal areas of the archipelago call for closer monitoring, if not through actual patrols, then through technology.
Drug traffickers must also be prevented from enjoying the fruits of their criminal activities. The anticipation of making billions in just one shipment can make a drug dealer risk an armed encounter with anti-narcotics agents. Criminals are deterred only when there is a strong certainty of punishment, with no opportunity for themselves or those close to them to enjoy the fruits of drug trafficking.