Opinion
Two rescued, several more to go.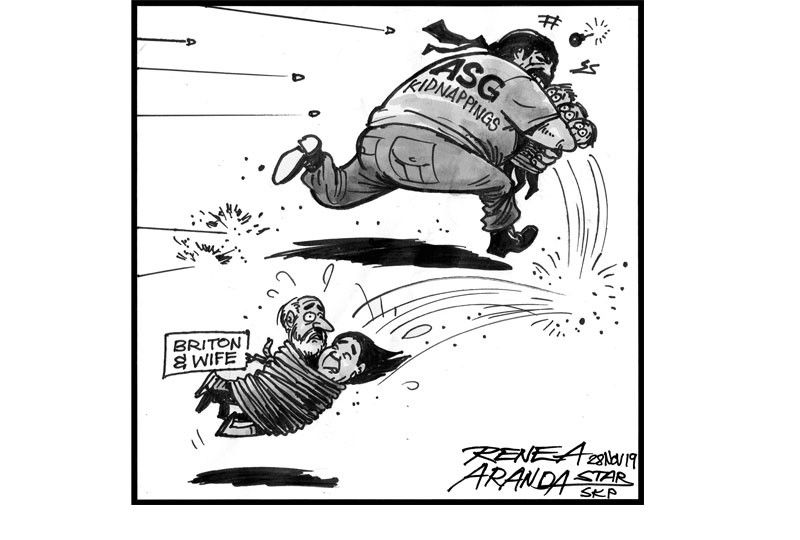 After nearly two months in captivity, a British businessman and his Filipina wife were freed from kidnappers last Monday in Parang, Sulu. Allan and Wilma Hyrons are lauding the Armed Forces of the Philippines for their rescue, during which six Abu Sayyaf bandits were killed and five others wounded in a firefight. Five soldiers were also wounded in the encounter.
The victims were snatched from their beach resort in Tukuran, Zamboanga del Sur on Oct. 4 and taken to Basilan before being brought to the Abu Sayyaf's jungle turf in Sulu, where the kidnappers demanded a ransom of P50 million. The couple and the military stressed that no ransom was paid, in accordance with a policy of the United Kingdom.
The Philippines also claims to have a similar no-ransom policy. But kidnappers and negotiators often go around the policy with the payment of "board and lodging fee" in exchange for the release of hostages. The practice has allowed ransom kidnapping to persist, and has turned it into one of the most lucrative illegal activities in the conflict areas of Mindanao. Freed hostages have expressed suspicion that local officials are in cahoots with the kidnappers.
Foreigners are often targeted. Following the rescue of the Hyrons couple, Indonesia has reminded the Philippine government that three Indonesians are still being held by the Abu Sayyaf. The three were seized from a Malaysian fishing vessel off Tambisan Island in Lahad Datu in Sabah in September this year.
The Hyrons' rescue is good news, but it also highlights the fact that this scourge has been around for decades, with Sulu still the center of activity. How hard is it to contain lawless activities in this tiny province? With decisive leadership and political will, it should be possible to mobilize resources and grassroots support to disrupt the bandits' network, deprive them of sanctuary and neutralize this threat.