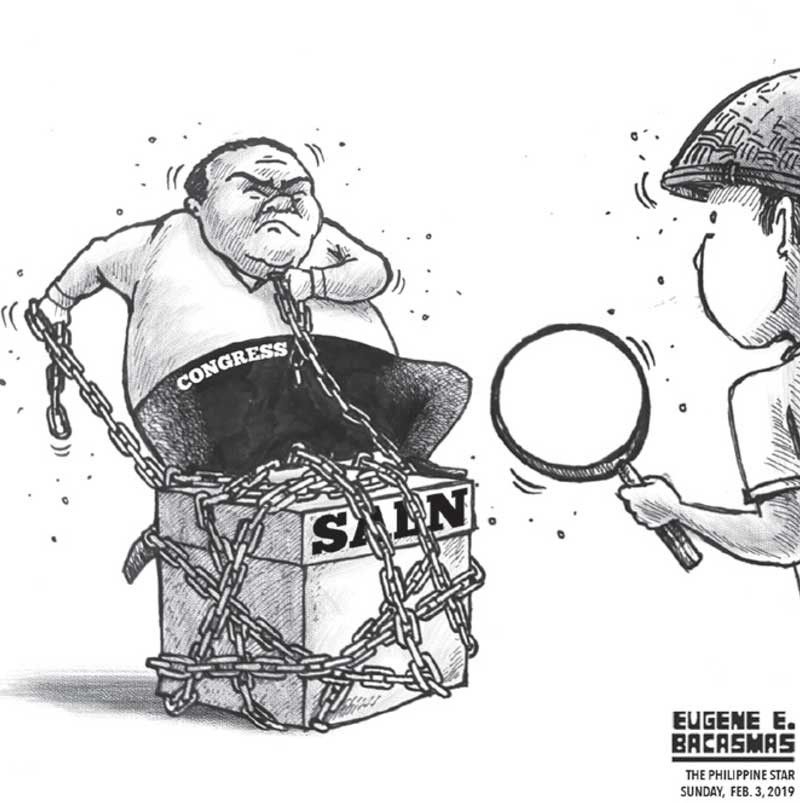 Top-secret assets
While President Duterte has issued an executive order promoting freedom of information in the executive branch, the House of Representatives is going in the opposite direction when it comes to transparency and public accountability.
On Wednesday night, the House of Representatives adopted Resolution 2467, which imposes stringent rules – and hefty fees – for access to HOR members' statements of assets, liabilities and net worth. All government officials are required by law to submit the SALN every year. Mass media used to be able to access the annual submissions, which are supposed to be a matter of public record.
Now access to the SALNs must be coursed through a formal request that must have final approval from the House plenary after vetting by a newly formed special committee. For every SALN, the requesting party must pay P300. This means access to the SALNs of all 291 members of the HOR will cost P87,300.
Among the reasons cited in the House resolution is that information in the SALN "may be used to render them and members of their family vulnerable to threats to life and security, influence the action of the House or its Committees and, consequently, undermine the independence of the legislative branch."
Considering that each lawmaker is secured by at least one police bodyguard, lesser mortals who must settle for one police officer per about 500 people must be wondering about this vulnerability. One need not peek into any lawmaker's SALN to threaten his or her security.
The House, however, is only behaving true to form. There are House members who would want taxpayers to consider congressmen's assets as a matter of national security, exempted from public scrutiny and rules on accountability. Lawmakers have posed the toughest roadblocks to the fight against money laundering. Corruption and tax evasion were among the last offenses to be included among the predicate crimes covered by the Anti-Money Laundering Act. Lawmakers also continue to resist proposals to ease bank secrecy rules and regulate campaign finance.
It's noteworthy that House Resolution 2467 was approved even as Congress is squabbling with the executive branch over a national budget that has been reenacted for the first time since 2009. The reenacted budget – which opens doors for corruption and misuse of people's money – is now in its second month. The approval of HR 2467 is hardly surprising, but this does not lessen the disappointment over a move that is a step backward in efforts to promote transparency, accountability and good governance.