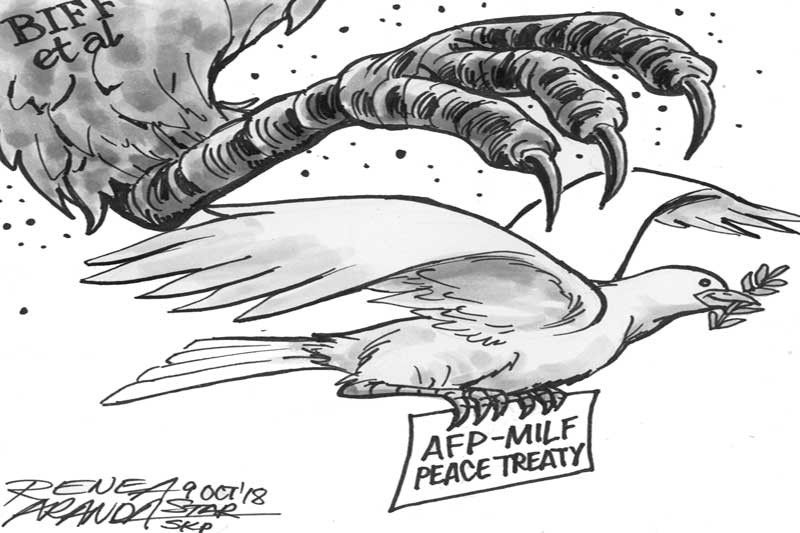 'The war is over'
Last Saturday, some 6,000 members of the Moro Islamic Liberation Front lined a five-kilometer stretch of road from Cotabato City to Sultan Kudarat in Maguindanao, to welcome a visiting group from the Armed Forces of the Philippines led by chief of staff Gen. Carlito Galvez Jr.
MILF chairman Al Hajj Murad Ebrahim led those who welcomed the AFP officers to the MILF's Camp Darapanan, where Galvez declared that the war with the Islamic separatists is over. This is a most welcome development for peace efforts in Mindanao.
Even before the Bangsamoro Basic Law or BBL was enacted earlier this year, the MILF had been cooperating with the government in various aspects particularly in law enforcement and counterterrorism in the conflict zones of Mindanao.
Unfortunately for the peace process, long before the BBL was passed, a faction had broken away from the MILF. And just like the MILF when it broke away from the original secessionist group the Moro National Liberation Front, the breakaway Bangsamoro Islamic Freedom Fighters is conducting armed attacks in several provinces in Mindanao. BIFF fighters are believed to have teamed up with Islamic State-inspired Maute terrorists who laid siege to Marawi City for five months last year.
Besides the Mautes and BIFF, the AFP also continues to battle the Abu Sayyaf, whose terrorist activities have hampered development and poverty alleviation efforts in the island provinces of Basilan, Sulu and Tawi-Tawi. The Abu Sayyaf is still keeping several hostages, most of them foreigners. Kidnapping for ransom is a major source of funding for the group. The Mautes, on the other hand, are believed to be raising funds through drug trafficking and various types of business fronts.
The continuing activities of these threat groups mean sustained conflict in Mindanao, even if the BBL is ratified in the plebiscite set next year. The war with the MILF is over, but the battles with threat groups in Mindanao continue on other fronts.