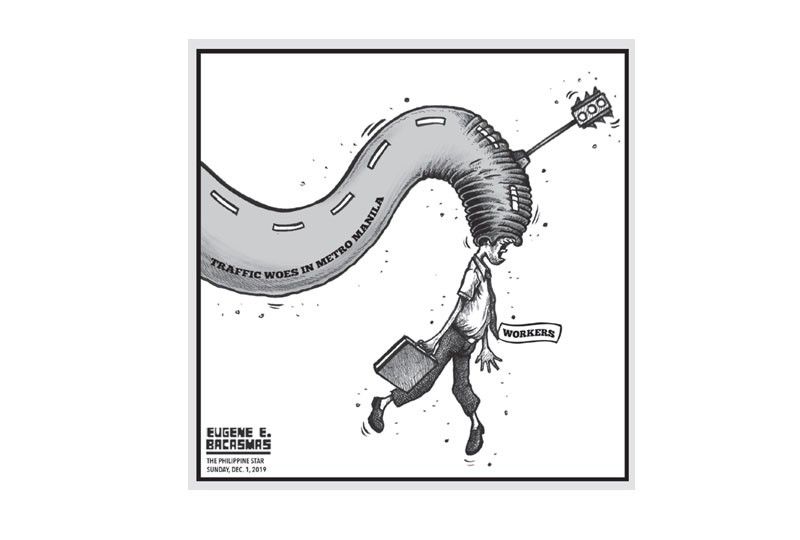 It's the first day of December; time is running out to attain the traffic decongestion objective of President Duterte on EDSA. Last June, the President had expressed optimism that by the end of the year, it would take as briefly as five minutes to drive along EDSA from Cubao to Makati.
The official in charge of the EDSA traffic zone for the Metropolitan Manila Development Authority, Edison Nebrija, later said the so-called five-minute challenge was mathematically impossible, even on a Sunday when traffic is at its lightest.
Last Friday night the President himself indicated he had given up on the five-minute objective, as he blamed Congress for failing to provide the necessary funding for decongesting EDSA.
He could, however, aim for more realistic targets, not only along EDSA but all over Metro Manila and neighboring areas. The Management Association of the Philippines issued a statement last Thursday, saying the horrid traffic problem is eating into the earnings of employees in terms of transportation costs and lost productivity.
"MAP begs the authorities to do something about the horrendous daily traffic in the metropolis," the group declared.
A traffic study commissioned by the Japan International Cooperation Agency estimates the daily cost of traffic in Metro Manila at P3.4 billion, based on time lost due to delays, fuel expenses, vehicle operating costs, greenhouse gas emissions and the impact on public health. Tolls on new flyovers or bypass roads add to the already heavy burden of daily transport costs for ordinary folks, who shun the new projects, therefore negating the objective of easing ground level traffic.
Several measures that can be done quickly have been proposed. One – clearing roads of vendors, illegally parked cars and other obstructions – is being implemented. Allocating exclusive bus lanes along EDSA should be reviewed, as they effectively make limited road space even more restricted for all other vehicles. The President can exercise his authority or invoke state power to order the opening of certain streets in gated subdivisions for free public use.
Officials of the police Highway Patrol Group have said that with tighter traffic enforcement, it was possible to bring down travel time from Cubao to Makati from over an hour to about 30 minutes.
The five-minute challenge is an impossible objective at this point, but more realistic targets are still attainable. With political will, it is possible to ease the traffic mess.