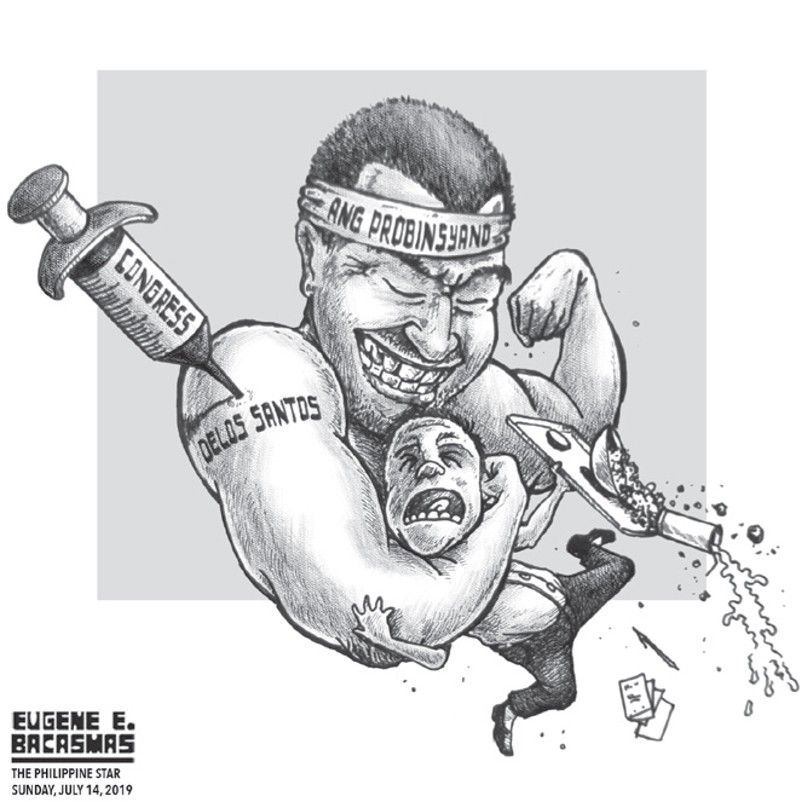 At a time when people are starting to see the party-list system as a failed experiment in marginalized representation, here comes Alfred delos Santos to reinforce that perception.
Delos Santos represents Ang Probinsyano party list. Which marginalized group the party represents exactly is unclear; there is another party called Probinsyano Ako. Maybe one is representing the popular TV series and the other is representing people from the provinces, making its constituency larger than a district congressman and equivalent to that of a senator.
Thanks to the Supreme Court, however, such questions have been rendered irrelevant by a ruling that allowed party-list groups to represent anything and everything, with no requirements on the qualifications of the party nominee.
In that environment, it isn't entirely surprising that some party-list congressmen might think the sky's the limit as well in their imagined entitlements. In Legazpi City, Albay on July 7, closed-circuit television video footage in a diner showed waiter Christian Karl Alejo approaching a table where Delos Santos was seated. Suddenly, Delos Santos stood up and threw a punch at Alejo.
What got Delos Santos into a punching mood? According to speculative reports, he thought Alejo had looked at him the wrong way. It's not clear if Delos Santos developed his attitude because he was born to wealth or because being a neophyte congressman, he now feels entitled to exemption from being looked at directly by the hoi polloi – never mind if the waiter belongs to the group that Ang Probinsyano is supposed to represent.
Amid the public condemnation, Delos Santos has said he is neither a bully nor a troublemaker, and has apologized to Alejo. If the CCTV footage had not been made public, would Delos Santos have been chastened? Ang Probinsiyano has reportedly launched an investigation. Will Delos Santos be censured by his own party? The nasty speculation is that his congressional colleagues may even give him a medal for passionately defending the entitlements of a congressman.
Why are taxpayers burdened with the party list?