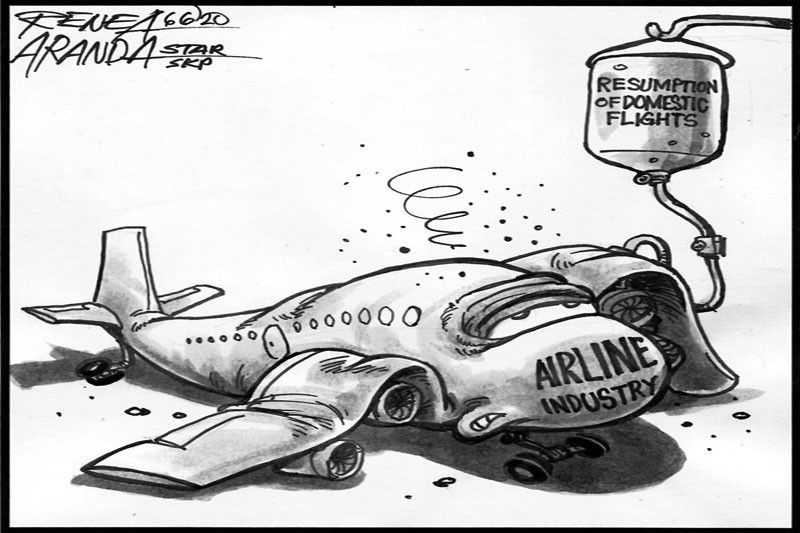 After 11 weeks, domestic commercial flights will finally resume today as quarantine restrictions are eased across the country.
Flights out of the National Capital Region, epicenter of the coronavirus disease 2019 contagion in the country, will need prior approval from the local government unit at the destination. Many LGUs, especially those with low or zero cases of COVID-19, are wary of anyone coming from the NCR.
Reopening businesses and preventing the further contraction of the economy, however, entails the gradual revival of the movement of goods and people. Air transport is the fastest mode of transportation, and its reactivation is critical for economic recovery.
Airline companies have reassured the public that COVID health protocols will be strictly enforced on all flights. At both the points of boarding and disembarkation, LGUs will have to do their part in ensuring the protection of public health.
Returning overseas Filipino workers are of particular concern for LGUs outside Metro Manila. The OFWs are placed under mandatory 14-day quarantine upon their arrival in the Philippines. At the end of the period, they are issued COVID health clearances by the Department of Health. LGUs at destinations outside Metro Manila can ask for these clearances instead of subjecting the OFWs to further quarantine. Or else, if the LGUs have the resources and want to be reassured, they can subject the OFWs to additional rapid testing, at government expense.
Protecting both lives and livelihoods has been a difficult balancing act throughout the pandemic. Like the reopening of other economic activities, everyone is aware that the resumption of domestic commercial flights must be accompanied by stringent measures to prevent COVID convention. The measures must be observed by all stakeholders – the airlines, LGUs and passengers themselves.