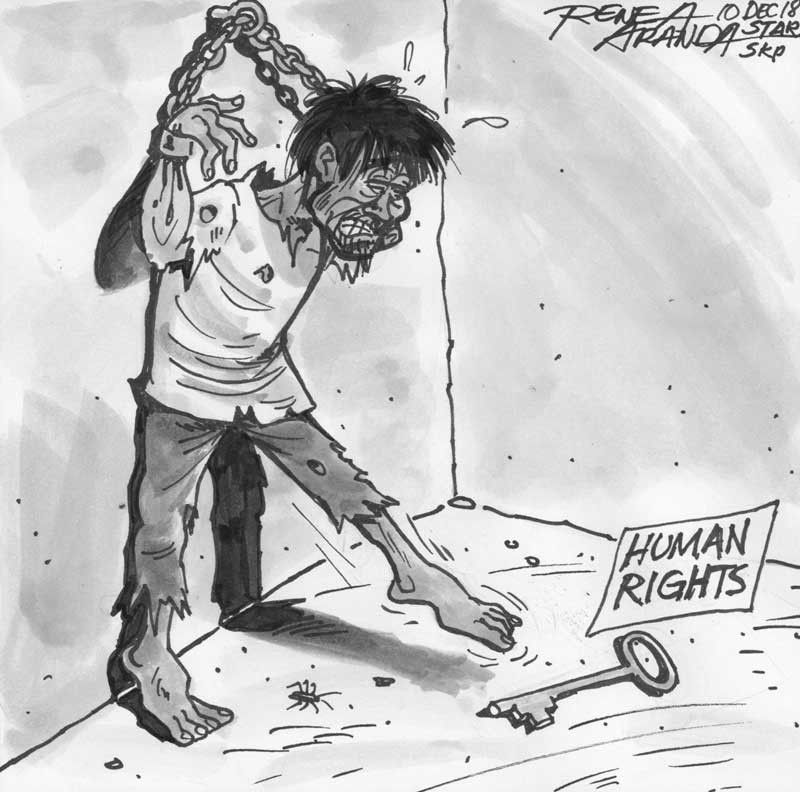 Stand up for human rights
The Universal Declaration of Human Rights turns 70 today with its guiding principles under threat. National security concerns are making governments and citizens alike even in free societies rethink civil liberties. Western democracies are reassessing their policies in dealing with migration.
Several states have challenged the universality of human rights, arguing that circumstances can be unique in different countries. They also argue that poverty is a human rights violation and economic rights must be given priority over certain civil liberties. The prosperity of several of these states has turned them into development models for autocratic regimes.
In the Philippines, the brutal war on illegal drugs has put the spotlight on human rights, with President Duterte often stressing that the campaign gives priority to the right of law-abiding citizens to be safe. But the problem has been around for a long time. The collapse of Ferdinand Marcos' dictatorship and the restoration of democracy failed to put an end to serious human rights violations including the killing of activists, journalists and legal professionals.
The International Criminal Court continues to examine information on possible human rights violations under the Duterte administration, which has announced the country's withdrawal from the Rome Statute. The ICC has ignored the withdrawal and according to recent reports is continuing with its proceedings on the Philippines.
Human Rights Day 2018 reminds everyone worldwide that the universal declaration empowers all people, with shared humanity anchored on the universal values. The equality, freedom, justice and human dignity espoused in the declaration are critical for preventing violence and achieving peace. Everyone is at risk when those universal values are abandoned, so people must stand up for their own as well as others' rights when these are under threat.
This is the theme of this special day – to stand up for human rights. It's a message as relevant as it was when the United Nations General Assembly adopted the Universal Declaration of Human Rights 70 years ago today.