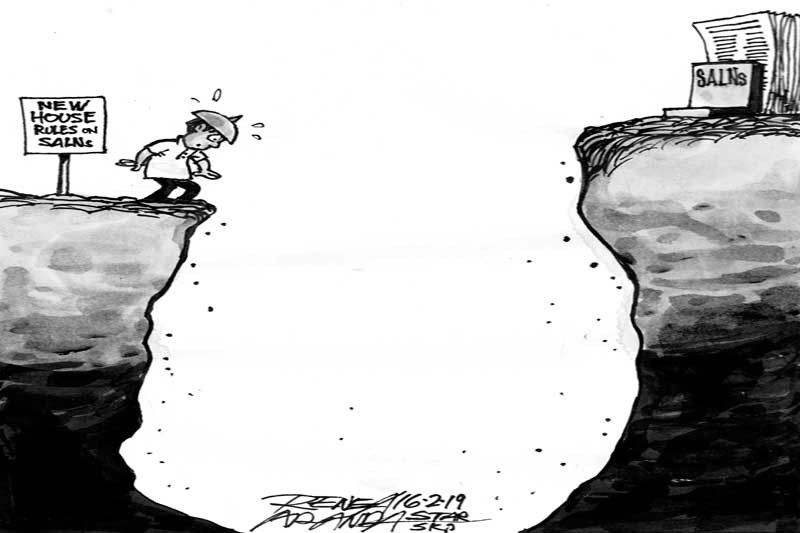 It may be a snake pit, but not all denizens of the House of Representatives are snakes. This is according to Fredenil Castro, who recently replaced Rolando Andaya Jr. as House majority leader amid an ugly squabble with the Department of Budget and Management.
Castro was lamenting what he described as the sweeping prejudgment of congressmen as venal, with some likening the lawmakers to vociferous crocodiles. But he conceded that there are rotten eggs in the House basket, even as he defended the actions of the chamber.
Among those acts is the recent approval of rules that make it harder for mass media and the public to obtain copies of congressmen's statements of assets, liabilities and net worth or SALN. Some lawmakers insist that the new rules in fact remove the arbitrariness in the approval or denial of requests for SALNs. But requiring approval of such requests by a review committee, by the owner of the SALN and then by the House plenary certainly looks like congressmen are making it harder to allow access to documents that are supposed to be a matter of public record.
In addition, those requesting access must pay P300 for every SALN copy. That means forking out over P80,000 for anyone seeking to scrutinize the SALNs of all the House members including party-list representatives. The normal cost of photocopying documents on regular bond paper averages P5 per page. The chamber, packed with multimillionaires and even billionaires, must be in dire need of funds.
Lawmakers are invoking their personal security and privacy in the tighter rules. Will any self-respecting terrorist, assassin or kidnapper, however, bother to consult a public official's SALN in picking a target and planning an operation?
Congressmen also claim that they are simply making the rules at par with those of other bodies such as the Supreme Court. But why should the legislature follow the example of the SC? Two chief justices were ousted over issues related to their SALNs. Lawmakers can lead the way in promoting transparency in government.
Instead Congress has decided to move in the opposite direction, sparking reminders that those who have nothing to hide should have nothing to fear. If the public has the impression that snakes and crocodiles populate the House of Representatives, its members have only themselves to blame.