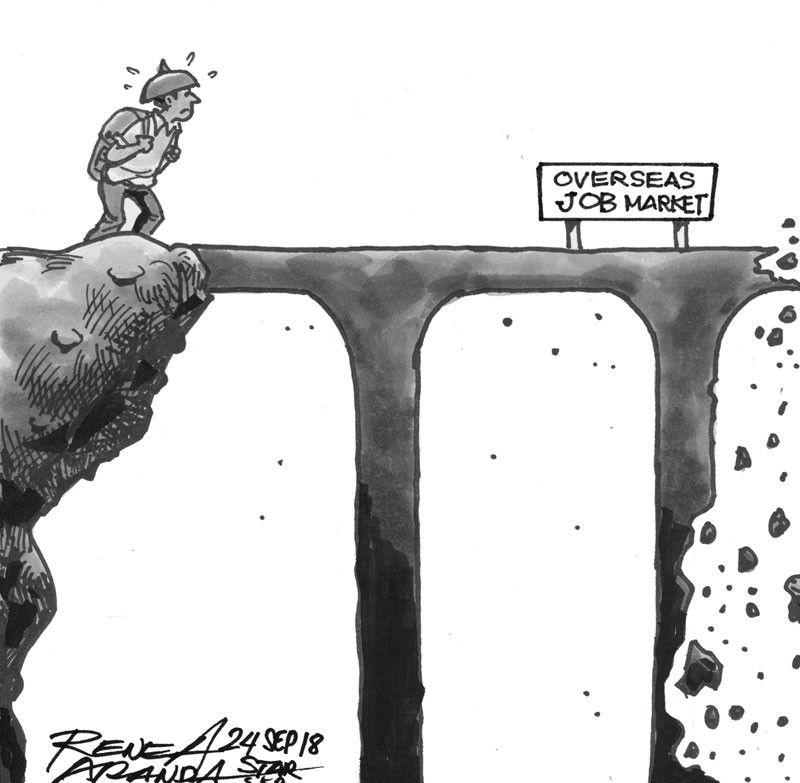 Slowing deployment
For propping up the economy even through global economic downturns and accounting for a substantial fraction of GDP growth figures, overseas Filipino workers have been hailed as the country's modern day heroes. These days, however, experts are seeing dark clouds in the OFW firmament that cannot be ignored.
For 2017, OFW deployment worldwide reportedly went down by nine percent compared to the previous year. While the deployment of 1,992,746 was still significant, it was the first recorded decline after nine years of consistent growth.
Those in the recruitment industry point to a general slowdown in several of the top job markets for OFWs, notably Saudi Arabia, where "Saudization" has led to a freeze on new hires and replacement of migrant workers with citizens of the kingdom.
Hiring of foreign workers has also reportedly slowed down in Kuwait, Oman, Qatar and United Arab Emirates as well as in top Asian OFW destinations Hong Kong, Singapore and Taiwan. Apart from the new hiring freeze, an estimated 30,000 Filipino skilled workers reportedly lost their jobs in Saudi Arabia alone from 2016 to 2017.
New job opportunities are opening up in countries such as Japan, Germany and China, but OFWs may lack the needed skills and basic language proficiency. The business process outsourcing sector in the Philippines, which has lured back many OFWs, is also facing turbulence. Experts are warning that artificial intelligence is replacing many skills provided by humans especially in voice BPO services. The US government is also imposing measures to make foreign outsourcing less attractive for American companies.
With experts sounding the alarm for some time now, the government must intensify efforts not just to find new markets for OFWs, but more importantly to generate more jobs with decent pay in the Philippines. Business groups have identified several sectors that show potential for growth and job generation, including tourism and agribusiness, which can create employment and boost economic activities in the countryside. The country must be prepared to bring back its citizens who want to work in their own land.