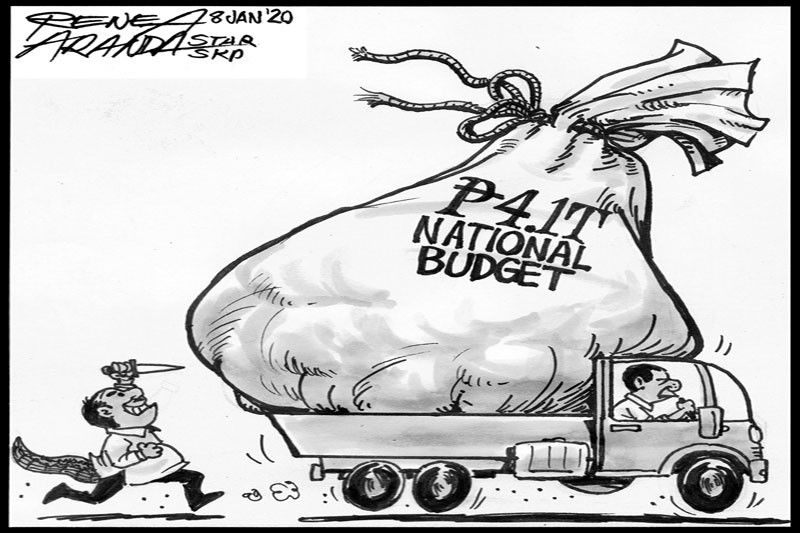 A week into the new year, President Duterte signed into law the P4.1-trillion national budget for 2020. The one-week wait is a great improvement from the delay of nearly five months last year in Congress' approval of the 2019 General Appropriations Act. The failure to pass the GAA derailed implementation of the Build, Build, Build infrastructure program and slowed down economic growth last year.
The 2020 outlay was enacted with no provision vetoed by the President, according to the budget secretary. This indicated that the executive saw no allocations that smacked of pork barrel, as one senator has insisted.
In his message at the signing ceremony, however, the President urged government agencies, civil society and lawmakers themselves to be vigilant against the misuse of public funds to serve the "selfish greed" of certain individuals.
The President did not elaborate, but he stressed the need for the judicious use of public funds in his budget message. This should go without saying, but even with numerous repetitions of the message, there are people who choose to ignore the admonition.
A specific issue that the President mentioned was adherence to his policy against unnecessary foreign travels. He may have to look right in his own backyard for those who use people's money to satisfy their travel bug.
If he wants civil society and the general public to keep watch on the judicious use of people's money, there must be an effective mechanism for reporting perceived anomalies in government spending. Equally important, the government must show that such reports will be acted upon and lead to reforms. The public must also see that anyone who uses people's money to satisfy "selfish greed" will be held accountable and face appropriate penalties.