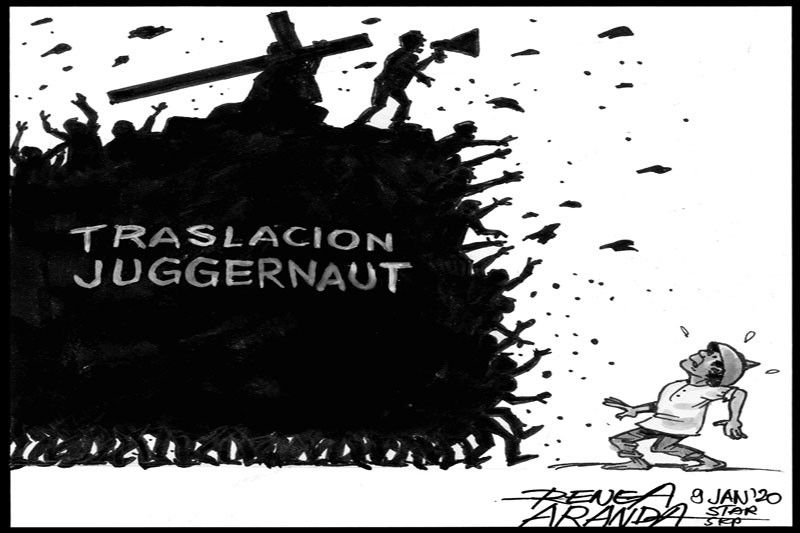 As in the past, the lines of devotees snaked around the park in front of the Quirino Grandstand as early as Jan. 7. Even when the rain poured on Tuesday night, the devotees stood in line, waiting for their turn to touch or kiss the feet of the image of the Black Nazarene.
Said to be miraculous, the image has attracted an ever-growing number of devotees at the annual procession that highlights the celebration of the Black Nazarene feast. With the massive crowd expected in Manila today for the Traslacion, both church and law enforcement authorities have agreed to keep the procession away from bridges with structural weaknesses, and to keep the event moving faster than in previous years.
The main concern is the safety of the participants. Mindful of devotees in previous years who suffered from the heat, exhaustion and serious health problems, medical teams are on standby to provide emergency assistance.
Security concerns also persist. The country has a terrorist problem, and the threat groups have shown no compunction in attacking large crowds for maximum impact. As in recent years, cell phones – which are used to set off explosives – cannot be used along the route of the Traslacion. The route is a no-fly zone even for drones.
Thousands of law enforcers are deployed along the route. A critical component of public safety, however, is public vigilance; participants themselves must do their part in ensuring a peaceful and orderly Traslacion.
Security officials say there is no specific threat related to the procession, but it's always good to be ready for trouble. Unruly persons must be quickly dealt with. Any suspicious package that is left unattended must be reported to the police personnel lining the route. With millions expected to participate in the procession, safety cannot be left to chance.