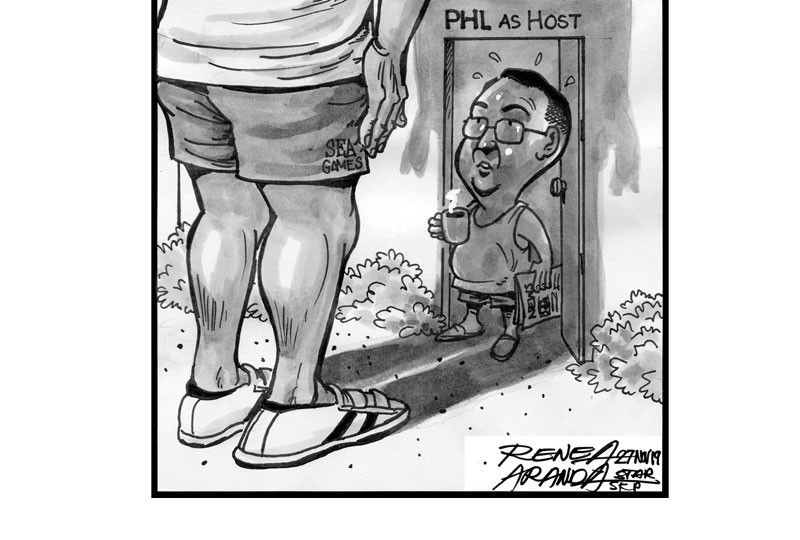 An event that is supposed to be a national showcase is now being depicted derisively as "The Hunger Games" and foreign participants aren't the only ones complaining. Even Filipino athletes, according to reports, think kikiam and eggs don't provide enough sustenance for persons who engage in strenuous physical activity.
The food isn't the only source of complaints by participants even before the formal opening of the 30th Southeast Asian Games that the Philippines is hosting. Other snafus have also been aired at press conferences by several of the participating countries.
Since the foreign delegations began arriving over the weekend, social media has been flooded with photos, video and accounts of foreign athletes waiting up to eight hours to be picked up at the NAIA and brought to their hotels. One team was picked up all right and taken to the wrong hotel. Athletes were seen sleeping on hotel floors while waiting to check into their rooms.
Those were precious hours wasted for practice and rest, which are critical for optimal performance in a sports competition. This has led to speculation that the snafus were deliberate, to give the athletes of the host country an edge. It may be an unfair accusation but it's not unexpected. Avoiding such accusations should have inspired greater effort to make the country's hosting as smooth as possible.
Instead several aspects of the hosting have been hounded by controversy. Taxpayers are forking out an estimated P3 billion to P6 billion for the construction of what is supposed to be the main venue of the SEA Games – the New Clark City Sports Complex – which organizers trumpeted to be all set for the Games. Now it turns out that only a handful of sporting events would be held at the complex, with the rest spread out to mostly private venues, aggravating pre-Christmas traffic in Metro Manila.
Not even the opening ceremony would be held in New Clark City, where a controversial P50-million cauldron for lighting the SEAG torch – dubbed the most expensive kaldero in the country – should have formally welcomed the participants.
Such profligacy with people's money may be forgiven if the hosting would be as glitch-free as possible. Even granting that the country merely took over as host after Brunei backed out, it's not the first time that the Philippines is hosting the Games. The event hasn't lacked for funds, augmented by contributions from the private sector.
The experience of participants even before the formal opening, however, has not been encouraging. Organizers should exert every effort to prevent this hosting from becoming a national embarrassment.