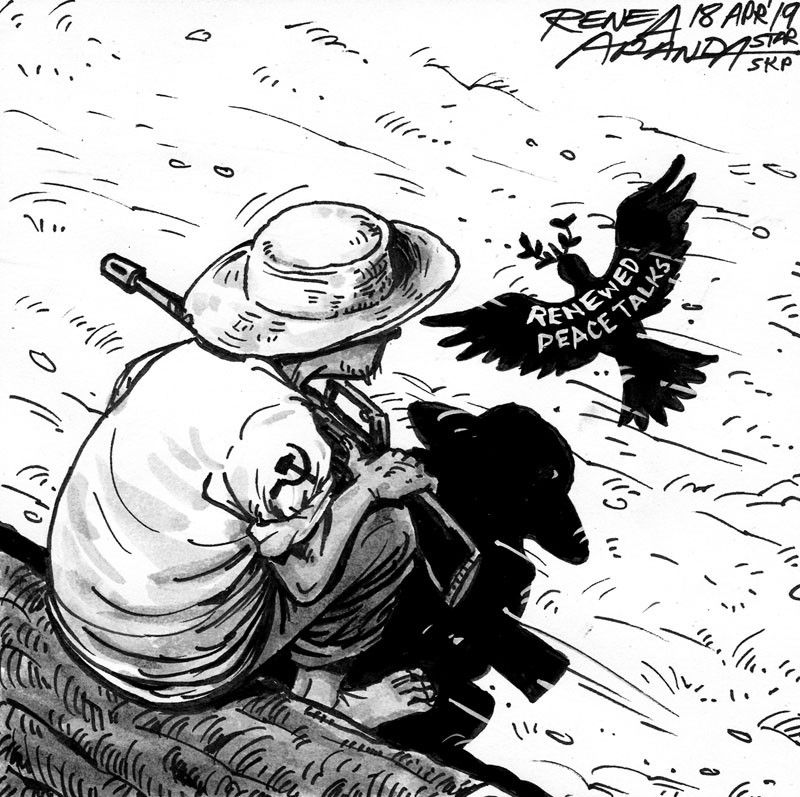 This being a season of prayerful introspection, peace appears to be on President Duterte's mind. A month after declaring that he was "permanently" ending peace negotiations with communists, the President said he was open to an "immediate ceasefire" with the rebels to pave the way for the resumption of talks.
His conditions for the resumption, often expressed in the past, remain the same. The New People's Army, the armed wing of the Communist Party of the Philippines and its political arm the National Democratic Front, must stop extortion activities and torching of the properties of those who refuse to pay up. The rebels must also not bring weapons to the negotiating table.
The President's demands are reasonable in peace negotiations. But election campaigns are fund-raising opportunities for the rebels, who shake down candidates in the guise of collecting "permit-to-campaign fees," so any resumption of the talks is unlikely before the elections. Their exiled leader continues to engage the President in a word war following the proposed ceasefire, although this has happened in previous revivals of the peace talks.
In case the President's proposal is rejected outright, the government should proceed with its ongoing pursuit of localized peace talks. A similar approach was adopted by the previous administration, with the Armed Forces of the Philippines launching parallel campaigns to win hearts and minds at the grassroots.
Local peace initiatives must be accompanied not just by economic development and poverty alleviation programs but also measures to address social injustice. It requires striking a delicate balance between defending national security and respecting human rights even in asymmetrical warfare. The human rights abuses of the Marcos dictatorship were the biggest recruiters of the communist insurgency. Lessons on counterinsurgency should have been learned from that dark period.
The government cannot afford to give up in the pursuit of peace. But the initiative can succeed only if the roots of discontent, which fuel insurgencies, are addressed.